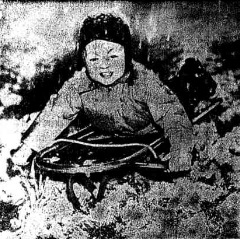 The young man shown here, David Hamilton, then two years old, of 18309 Riegel Road, Homewood, Illinois, got his picture in the Chicago Tribune on August 26, 1942, courtesy of an early snowstorm that covered much of the Midwest, starting 75 years ago today on August 24.
While there was enough snow to keep young Mr. Hamilton amused in the Land of Lincoln, the heaviest snow of the storm was in Minnesota. Numerous overhead wire systems were damaged by the wet snow, with the damage estimated at $25,000 in the state. The heaviest snows were reported in Bird Island, with 8 inches, and Sauk Centre with 9. New records for September snowfall were set throughout the southern half of the state, with a few such records also being set in northern Minnesota.
Since the snow was accompanied by cold temperatures, there was crop damage throughout the state. Many Friday night football games were cancelled, and phone service was out between Minneapolis and Rochester.
Snow was reported from in the Dakotas, Minnesota, Iowa, Wisconsin, Illinois, Missouri, and Indiana during the three day storm.
References