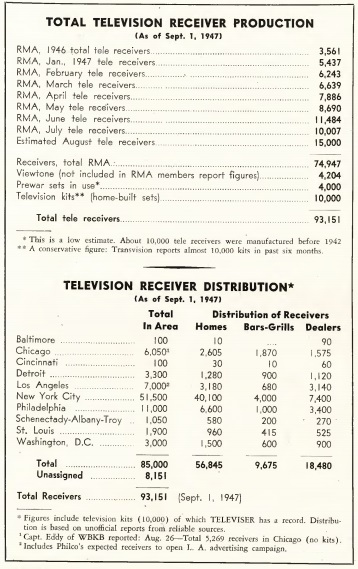 Seventy years ago, television was just getting off the ground, and the September-October 1947 issue of Televiser magazine gives this interesting snapshot of the number of televisions in existence at that time.
The magazine estimated that there were 93,151 sets in existence in the country.  At this point, most of the numbers were fairly exact, since the limited number of manufacturers allowed them to report the exact number manufactured.
One wildcard was the limited number of prewar sets still in use, but this was also relatively easy to estimate.
One wildcard was the number of homemade and kit sets in use.   Stations were hearing more and more reports of "stations becoming increasingly aware of unspecified numbers of home-built receivers" tuning in their signals. The magazine provided a "conservative" estimate of 10,000.
New York was still the hotbed of television, with 51,500 sets, over 40,000 of them in private homes.  An additional 4000 were installed in bars, with more than 7000 on the dealer's shelf.
Philadelphia weighed in next with 11,000 sets in use.  Washington had 3000, and the TV phenomenon was just starting to move to Baltimore, with 10 sets in homes, with an additional 90 in the hands of dealers.