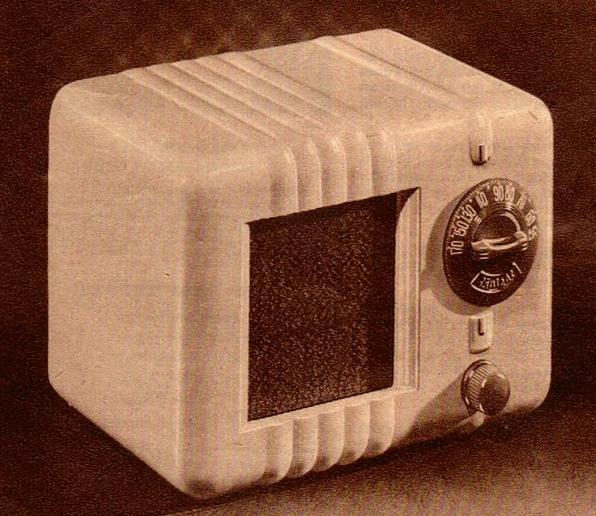 In an earlier post, we showed an inexpensive 1940 four-tube broadcast radio for $7.95 available at Walgreen's. A modest radio such as this one would probably stay in service until the end of the War, because on April 22, 1942, the War Production board ended the production of civilian radio receivers. So if you had a radio, that's the one you would have for the duration.
Shown here is probably one of the least expensive prewar receivers of all. This model, the "Tiny Knight" from Allied Radio is shown here in the 1941 Allied catalog, and had a catalog price starting at $5.30. It measured 6-1/2 by 4-1/4 by 4-1/2 inches and weighed four pounds, and was billed as being something that you could hold in the "palm of your hand." It was marketed as a second radio, or for travel: "It's so small you can pack it into any size suit-case or overnight bag and take it along when you travel." But it was also billed as being "so low-priced that anyone can afford it." At the tail end of the depression, it's likely that more than a few households had a set similar to this one as their only radio. And with the ban on the manufacture of new radios, quite a few of these sets were what many families depended upon for war news.
The set's four tubes consisted of a 12K7GT RF amplifier, 12J7GT detector, and 50L6GT audio amplifier, with a 35Z5GT serving as the rectifier. It tuned as high as 1720 kHz, making it capable of picking up police calls in many areas.
This set was a TRF (tuned radio frequency) receiver. On the same page, Allied showed its least expensive superhet, a five-tube model starting at $8.30.
The four-tube set was Allied model B10509 or B10510, depending on the cabinet.
Click Here For Today's Ripley's Believe It Or Not Cartoon