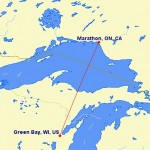 In 1953, Marathon, Ontario, was a full 300 miles away from the nearest TV station, WBAY channel 2, in Green Bay, Wisconsin. That distance didn't stop Grant Ross from deciding that the town needed television, and he set out to deliver. He discovered that from a hill 300 feet above the shore of Lake Superior, the signal was perceptible, and he set out to get reliable reception. Half of the path between Green Bay and Marathon was over the waters of Lake Superior. However, Green Bay was on the shores of Lake Michigan, and the signal had to cross 152 miles of Wisconsin  and Upper Michigan countryside before reaching the unobstructed waters of Lake Superior. But it did so, and Ross was intent on providing a signal to the town. He wound up constructing a rhombic array on 45 poles mounted atop the hill. This signal was fed down to the town on an 1800 foot transmission line. A 1955 report showed that he received "excellent" signals at least 40% of the time. Reception was "poor or useless" only 20% of the time.
Ross signed up over 400 homes for his pioneer Community Antenna Television (CATV) systam, collecting a $50 installation fee from each. In addition, the monthly subscription for the service was $2.50.
A few years later, channel 2 came on the air in Port Arthur, Ontario (now Thunder Bay), and he switched the service to that. The rhombic was rebuilt to receive the new signal from WLUC in Marquette, Michigan, which was a relatively easy catch, being 166 miles away, but with a path entirely over the waters of Lake Superior.
Click Here For Today's Ripley's Believe It Or Not Cartoon