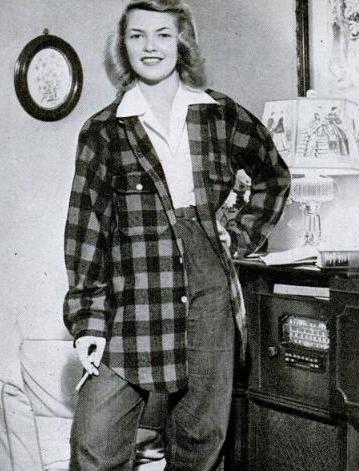 Seventy years ago, Life Magazine, December 11, 1944, featured the life of teen-age girls, and noted that all six million of them "live in a world all their own–a lovely, gay, enthusiastic, funny and blissful society almost untouched by the war." Music stores bulged with girls listening to the singers and bandleaders they have made famous, and "half a dozen radio programs are aimed at homes where a daughter will cut off her father's news to follow the fictional adventures of a contemporary."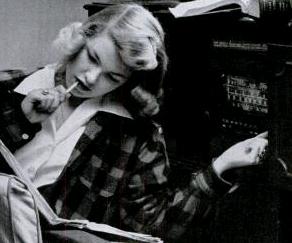 Shown here and above is Miss Pat Woodruff, a high school student from Webster Groves, Missouri, a suburb of St. Louis. She's wearing her "after-school costume of blue jeans and a checked shirt," undoubtedly getting ready to tune in one of those programs on the console radio in the parlor. She quickly gets to work tackling her homework, but with the radio playing full blast.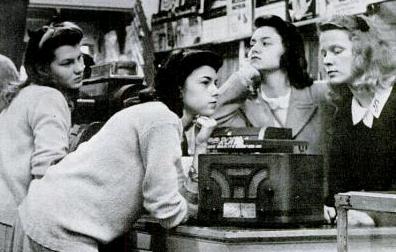 When the girls featured in the story were not listening to the radio or talking endlessly on the telephone, the phonograph occupied them. Here, a group of girls spends 2-1/2 hours listening to two dozen records at a record store, buying only one or two. Here, a group is completely engrossed listening to Dick Haymes' Together.
Dates were usually double, the article noted. Teen-age girls were primarily interested in themselves, with high-school boys running a poor second. Servicemen stationed near town rated last. An old high-school boy home on leave in uniform, however, was in a class by himself and rated tops.
Click Here For Today's Ripley's Believe It Or Not Cartoon