While looking for something else, I discovered this product which I suspect will be of interest to many readers.  It is a kit for a pocket AM-FM radio that looks like a real consumer product, albeit a very cheap version of a consumer product.  It bears the impressive Paeansonic brand name.  When the radio is complete, it won't look like a kit.  It will look just like it rolled off the Paeansonic assembly line in China!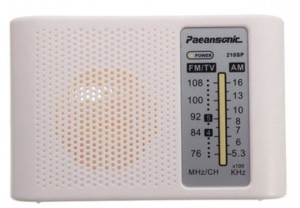 The best part is that you can get the kit direct from China for just over $5, including shipping.  It is available from Fasttech, a distributor in Hong Kong of electronic devices, parts, and a wide variety of other goods.  I've ordered from them many times in the past, and have always had a good experience.  Amazingly, shipping all the way from China is usually free.  Occasionally, when I check out, I'll need to pay a dollar or two in shipping, but on most orders, there is no added cost for shipping.  Orders generally arrive in 2-3 weeks by registered mail, having been deposited in the mail in Singapore.  Payment is by PayPal, although I believe you can use a credit card if you don't have a PayPal account.  Despite my original trepidation of buying direct from China, all of my experiences have been good.
This radio kit sells for $5.25 (and an additional 10% off coupon code is explained below), and it's obviously more of a novelty than a high-quality radio.  I have not ordered one yet, but there are a number of videos and websites showing how to put it together, and that it works after assembly.  It appears to work about as well as you would expect a $5 radio to work, but it does seem to pull in both AM and FM stations.
Despite the apparent simplicity of this kit, it does not appear to be something for the first-time kit builder.  The parts are very small, and it includes a surface-mount IC that requires a delicate touch to get it soldered in place.  It also requires a bit of alignment, which might not be intuitive to someone with no prior experience.  If you're new to electronics, or buying a kit for someone who is, then I would recommend one of the other kits shown at the bottom of this page.
But if you want a cheap kit to put together, that looks like a real (albeit cheap) product, this seems to fit the bill.  And if it doesn't work when you're done, you're only out $5!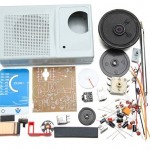 Fasttech also offers this model for $7.50, shown at left.  It appears to offer slightly more circuitry, and in theory might pull in a few more stations than the cheaper model.  However, it lacks the trusted Paeansonic brand name.  Instead, most of the markings are in Chinese.  It does have one nice touch in that the FM dial is reportedly calibrated in "kMHz".
The instructions are in Chinese, but this website has an excellent set of instructions for assembling and aligning the kit.  This page also has some pointers.  To get some idea of what you're getting yourself into, the following videos will be helpful:
As noted above, this kit probably isn't for beginners.  On the other hand, it's only $5, so if you want something to practice on, you don't have much to lose.  But if you're looking for something for a beginner in electronics, there are better options.
For an absolute beginner, you can't go wrong with a kit like the one shown here, which is available on Amazon.  This one does require soldering, but it's well within the capabilities of any beginner, and there's very little that can go wrong with the completed circuit.  It will do a reasonably good job of pulling in FM stations.
If you don't own a soldering iron, this FM radio kit comes complete with a soldering iron and the other tools you'll need to put it together.
And if you want something really simple that even the youngest kid can put together, then I recommend the Snap Circuit FM radio kit shown at the right.  As the name implies, the parts just snap together, and it's foolproof.
If you're interested in the kind of radio from the early days of radio, which is still a solid performer, then you might consider the two-tube regenerative receiver kit shown at left, which will pull in both AM and shortwave stations at a reasonable price.
And of course, this site contains many plans for simple receivers, both crystal sets and powered radios.  You can find them by browsing my radio history pages. For ideas on where to get the parts, see my crystal set parts page.
If you're interested in the Paeansonic kit, I'll probably have a few available for sale at Ozarkcon in April.  However, the price will probably be $10.  So if you want it cheaper and faster, I encourage you to get yours direct from China!
Fasttech is currently on its holiday schedule due to the Chinese New Year and will reopen on February 22. Orders will be taken during that time and shipping will start on February 22. During this time, Fasttech is offering a coupon for 15% off orders of $150 or more, or 10% off for all orders. Orders must be placed by February 20, and you must use the coupon code KUNGHEI.
(Some of the links on this page are affiliate links, meaning that we get a small advertising fee if you purchase after clicking on the links.)