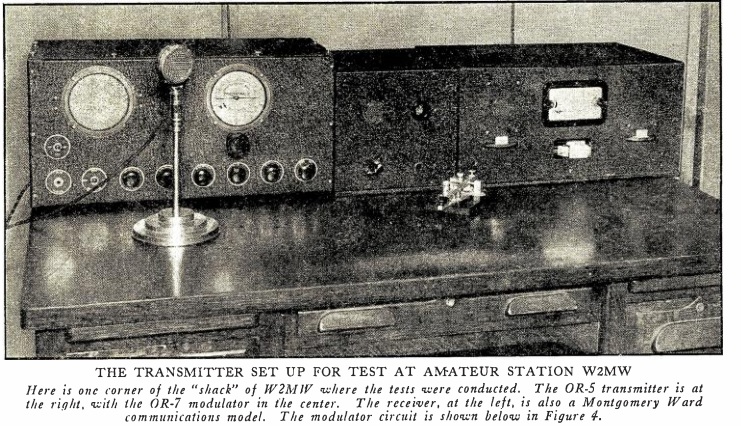 Eighty years ago, the October  and November issues of Radio News carried a review of the model OR-5 transmitter for the 160 through 10 meter bands put out by an unlikely supplier for ham gear, namely Montgomery Ward & Company.
The reviewer, Everett Walker (whose call was, coincidentally, W2MW, whose 5 meter station we previously featured), posted an overall favorable review of the transmitter: "the small transmitter proved itself an excellent all-band unit on small power. On the higher frequencies it proved a good competitor for the 500 watt transmitter used at W2MW. On the lower-frequency bands it put out a signal that could compete with the normal QRM with more effectiveness than was expected. The transmitter also was tested on 160 meters, not at the writer's station, but at a nearby station that was equipped with an adequate antenna. Here it put out a good signal and the operator who made the test reported local communication was excellent and more than six "out-of-the-district" stations were worked within a short time."
He noted that the rig put out 60 watts CW on all bands but 10 meters, where it put out 40 watts.
The rig was geared mostly for the CW man, but the accompanying OR-7 modulator was also available for AM use. In the photo above, the transmitter is at the right, with the modulator in the middle. The accompanying receiver on the left, whose model number is not stated, is also from Montgomery Ward.