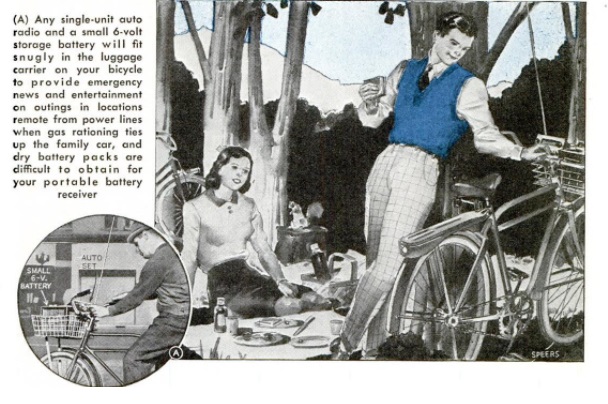 There was a war going on 75 years ago, but that didn't stop this young man from enjoying a picnic with his girl, complete with emergency news and entertainment from the radio, as shown in the October 1942 issue of Popular Mechanics.
The war did, however, make planning the outing a bit more challenging.  Gas rationing meant that the family car was out of service, and shortages of B batteries meant that the portable receiver wasn't an option. Undaunted, he simply borrowed the receiver out of the family car, along with a six-volt battery, probably borrowed from the same car. Dad wasn't going to be driving anywhere, anyway, so he presumably wouldn't miss it.
The radio and battery were mounted in the bicycle's luggage carrier, and Junior and his girl were off to a picnic lunch at this secluded spot.  Junior works on one of the sandwiches as he tunes in some appropriate musical program, and his girl looks on with admiration at his ingenuity.  Not even Hitler and Tojo can put a damper on their romantic picnic.