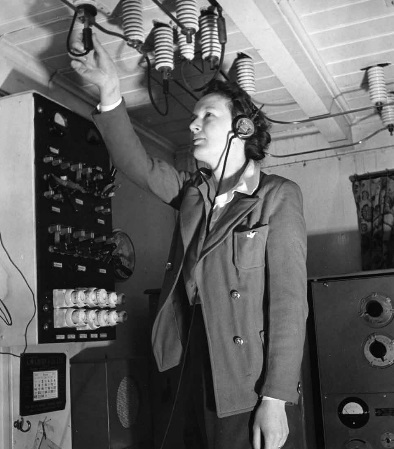 Fern Sunde (née Blodgett) was born in Regina, Saskatchewan in 1918, and grew up in Cobourg, Ontario. When Canada entered the war, she was a secretary at a life insurance company in Toronto, and enrolled in a night school to learn radio telegraphy. She received her certificate on June 13, 1941, and was the first Canadian woman to do so.
No Canadian lines were willing to take her, and she eventually signed on with the Norwegian freighter MS Mosdale as radio operator. She was initially the only radio operator aboard, but when regulations changed, she became one of three, working four hour shifts with eight hours off.
While she was the first woman to serve aboard a Norwegian merchant ship, 23 other women followed in her footsteps, 21 Canadians and two Americans.
The ship's captain was Gerner Sunde, and the two eventually wed. She was awarded the Norwegian krigsmedaljen (war medal) in 1943.  She died in Norway in 1991.
References