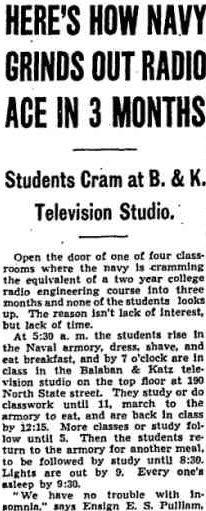 On this day 75 years ago, March 8, 1942, the Chicago Tribune carried this description of the fever pitch at which it was training its radio experts.
It explained how the Navy was cramming a two-year college radio engineering curriculum into three months. Students were housed at the Naval armory where they woke at 5:30, and were in class by 7:00 at the Balaban & Katz television studio at 190 North State Street.  The theater company was the licensee of WBKB-TV, located at 190 North State Street, the present location of WLS-TV.
The men were in class until 11:00, at which time they marched back to the armory to eat, and were back in class at 12:15 until classes ended at 5:00. Lights were out at 9:00, and the Ensign in charge of the program reported that there were no problems with insomnia.
In a few months, the men's duties would include RADAR, so the UHF expertise of the television engineers running the program were ideal for instruction.
The men's former occupations were diverse, and included electricians, refrigerator servicemen, farmers, and locomotive firemen. Each was given a preliminary scholastic examination by mail, followed by the regular navy physical examination. Even though the scholastic test was tough, the Navy didn't care whether the students had any formal education.
Many of the men were married, and many had turned down commissions as officers in the Army , instead opting for the rank of naval radioman, second class. They recognized that the training would be invaluable when they returned to civilian life, especially with the prospect of a future in television.
The men were paid $72 per month, with an additional allowance of $34.50 for dependents. It was noted that the men could live on "nothing a week," with the exception of cigarettes or extras.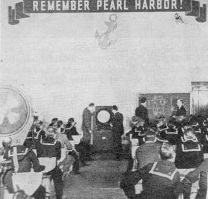 A typical classroom at the school is shown here, courtesy of an article describing this and other Navy radio schools in the November 1942 issue of QST.