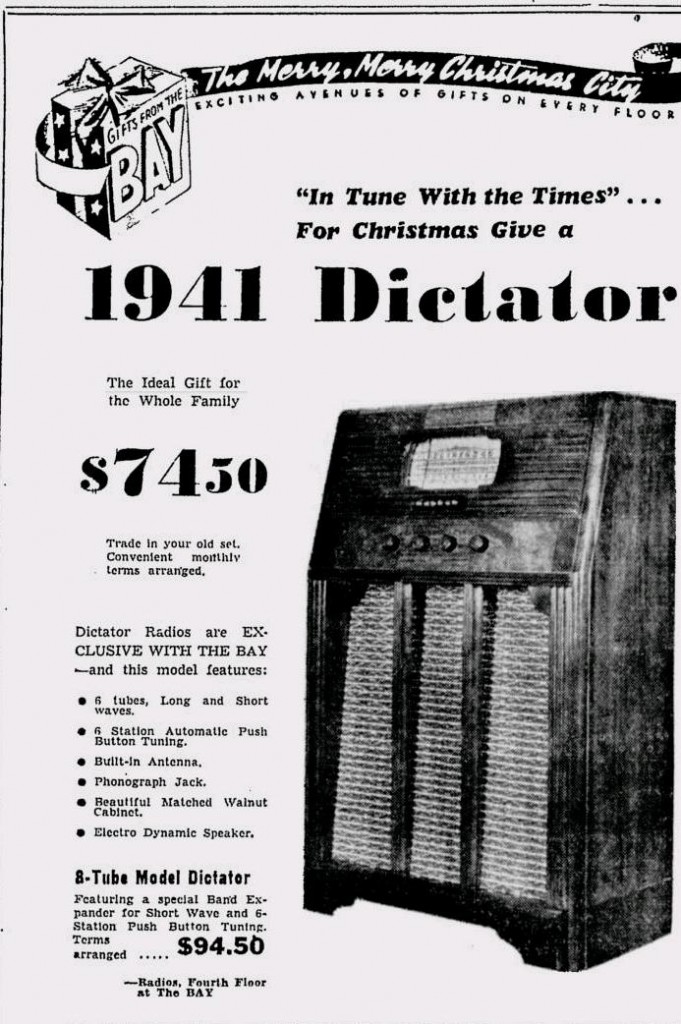 By November 1940, Canada had been at war with dictators for over a year.  But this ad invited Canadians "in tune with the times, for Christmas, give a 1941 Dictator, the ideal gift for the whole family!"  This ad appeared 75 years ago today, in the November 28, 1940, issue of the Vancouver Sun.
At some point in the 1930's, someone at the Hudson's Bay Company department stores decided that "Dictator" would be a good name for their own brand of radios, most or all of which were manufactured by Dominion Electrohome Industries Limited of Kitchener, Ontario.  Presumably, they had a lot of nameplates printed up, so they continued to use them on early wartime models such as this one.
Both the six tube ($74.50) and eight tube ($94.50) featured pushbutton tuning, and both covered short wave, so I suppose both of them could, indeed, bring a dictator into your living room as you tuned the wartime shortwave bands to listen to the voices of Hitler or Mussolini.
Click Here For Today's Ripley's Believe It Or Not Cartoon