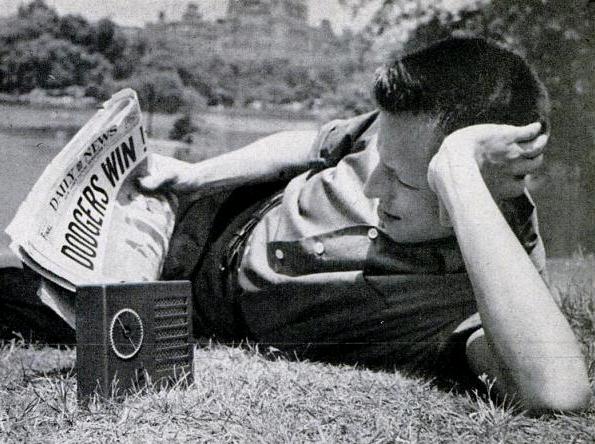 Sixty years ago, a transistor portable radio was still a rather expensive luxury.  The first such set to be marketed, the Regency TR-1 had a retail price of $49.95.  (Remember that this was when the money was still made out of silver, so it would roughly translate to the value of fifty silver dollars today).
For the hobbyist wanting to try his own hand, it was probably possible to save some money, but it was an ambitious project.  The plans for the set shown above appeared in Popular Science in September, 1955.  The article described the construction of an 8-transistor superhet using eight RD 2517A NPN transistors.  It recommends the use of a matched set, which was available for $20.
To put the circuit in terms that the readers would understand, the author noted that it was essentially the same as a receiver employing eight triode tubes, but with vastly reduced power needs. The power was supplied by a 21-volt alkaline battery consisting of 15 cells. The set actually required two batteries of 9.8 and 1.4 volts. The author described how to do surgery on the battery to get the two values. An alternative was to use AA penlite cells, with a slightly larger case.
In addition to the electronic assembly, the set required a fair amount of metal work. The article shows how to cut and bend the chassis, and describes how to make the cutouts for the IF transformers. The cabinet was made of cigar box wood.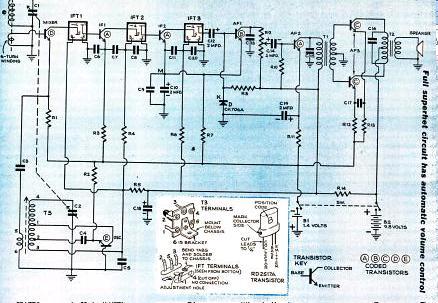 The schematic reveals a circuit as good as the Regency or similar high-end transistor portable, and I have no doubt that it was a good performer. The author reports that the set performed well in the lower level of Grand Central Station, and as his train passed through the suburbs, reception was still good even 25 miles from the transmitters, and even on lower powered stations.
Click Here For Today's Ripley's Believe It Or Not Cartoon