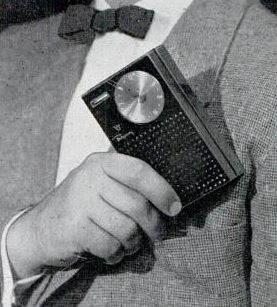 Sixty years ago, a new phrase entered the American lexicon: transistor radio. Shown here is the first commercially manufactured transistor radio, the Regency TR-1. It was first produced in 1954, and featured here in Popular Mechanics, January 1955.
As shown in the schematic diagram below, the radio used four NPN transistors from Texas Instruments. It was a superheterodyne, with one transistor as the mixer-oscillator, two for IF amplification, and one as an audio amplifier. The detector was a germanium diode. To function at RF frequencies, the transistors required a fairly high voltage, which was supplied by a 22.5 volt battery. (The battery, incidentally, is still available
, but it's now a very specialized item and very expensive.) The radio drew about 4 milliamps, meaning that a battery would last about 20-30 hours. While somewhat expensive to operate, this was an improvement over tube portable radios, which would typically operate for a few hours on a change of batteries.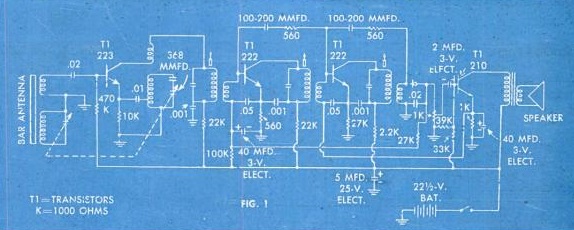 Texas Instruments produced a prototype transistor radio in 1954, and began shopping around for a radio manufacturer interested in producing it. The major names in radio weren't interested, but an Indiana company named Industrial Development Engineering Associates (I.D.E.A.) jumped at the opportunity. It was put on the market in November 1954.
The radio originally retailed for $49.95. To put that price in perspective, coinage of the day was still silver, meaning that the radio could be yours in exchange for 50 silver dollars. Today, that would represent about a thousand dollars. Still, the radio sold about 100,000 units in its first year on the market.
The radio was a generally poor performer. The original TI prototype had included 6 transistors, which was reduced to keep costs down. In particular, the single audio amplifier transistor provided meager volume to the small speaker. Also, it lacked sensitivity, making it suitable only for receiving strong local stations. A review of the radio in Consumer Reports recommended against purchase.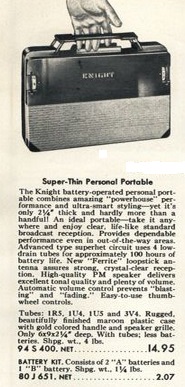 For 1955 listeners who needed a portable radio, a tube set was still the best option.  While they were still bigger in size, the performance of a tube portable would be dramatically better, and the cost would be much lower.  The radio shown here, for example, is a 4-tube portable from the 1955 Allied Radio Catalog.  It sold for $14.95.
Over the years, the price of transistor portables came down dramatically.  The same basic circuit was used in many inexpensive transistor AM radios.  By the time I got one in about 1972, the price was down to $1.99, and that was after inflation.  I believe I owned the exact model shown below, and I remember buying it after seeing a very similar ad in a local newspaper.
Today, specimens of the original Regency in good condition seem to go for about $400 on eBay.
References
Click Here For Today's Ripley's Believe It Or Not Cartoon