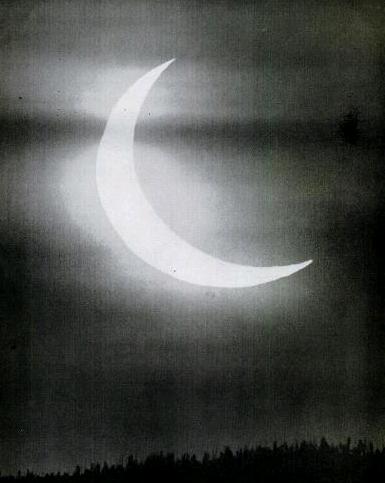 Seventy years ago today, July 9, 1945, a narrow strip of Idaho and Montana experienced a total eclipse of the sun.  From its sunrise beginning in the northwestern United States, the path of totality passed through Canada, Greenland, Scandinavia, and the Soviet Union. The photo here was taken near Butte, Montana, were the sun rose almost fully eclipsed, with totality a few minutes later. The photo was taken by Peter A. Leavens, and appeared in Life Magazine on July 23, 1945.
Ionospheric scientists at Tromsø, Norway, only two moths after liberation, took the opportunity to measure the effects of the eclipse on the ionosphere. Their results show a pronounced dip in the critical frequency during the eclipse.
Interestingly, their report also notes that the Germans had an ionospheric station at Kjeller, used to determine radio communication frequencies after the war. When the station was taken over by Allied forces, the German peronnel were ordered to continue their work, and observations were made at that station as well.
Click Here For Today's Ripley's Believe It Or Not Cartoon