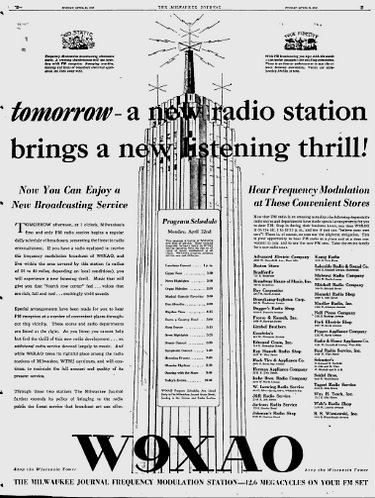 75 years ago today, April 22, 1940, FM radio came to Milwaukee, when W9XAO came on the air at 1:00 PM on 42.6 megacycles. The station was owned by the Milwaukee Journal, and was the sister station of WTMJ, the paper's standard broadcast station. According to the April 21 issue of the newspaper, the station was "the first FM station west of the Alleghenies."
The paper used a number of pages touting the advantages of FM radio. Of course, listeners would require a new set to tune in the new band, and a number of manufacturers and retailers advertised their sets. The least expensive model was Stromberg-Carlson model 525-H for $59. This radio was actually a tuner only. It could be plugged in to the phonograph jack of an existing radio.
The station at some point received a commercial license and operated under the call letters W55J. After the war, the station moved to 102.1 on the modern FM dial with the call sign WTMJ-FM, but ceased broadcasting in 1950. WTMJ-FM returned to the air in 1958, on 94.5 MHz. The station is currently still owned by Journal Communications, but now uses the call sign WLWK-FM.
The first full-time announcer at W9XAO was Don Stanley, who came to Milwaukee from KGLO in Mason City, Iowa. He went on to become a west coast announcer for NBC radio and television from 1946-1992.
Click Here For Today's Ripley's Believe It Or Not Cartoon