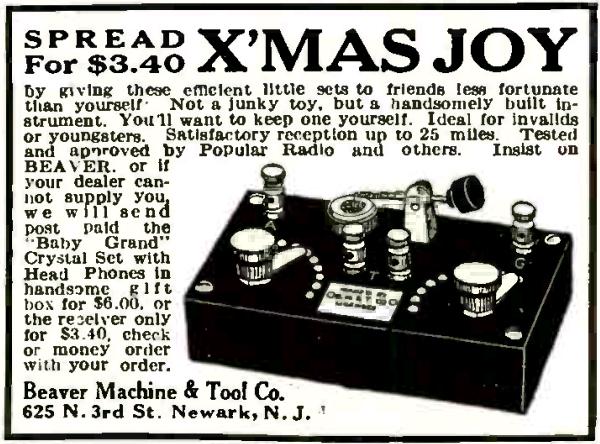 Presumably, by 1924, most readers of Popular Radio magazine already owned a radio receiver, and judging from the articles and ads in the December 1924 issue, most of those readers already owned a set with one or more tubes.
This probably presented a marketing challenge for the Beaver Machine & Tool Co. of Newark, N.J., maker of, among other things, crystal sets. Since it was the Christmas season, the crystal set was promoted as a gift item. The company advertised its "Baby Grand" crystal set as a way to "spread X'mas joy by giving these efficient little sets to friends less fortunate than yourself." The ad assured that the set was "not a junky toy, but a handsomely built instrument" that was ideal for invalids or youngsters. It reported that the set would give satisfactory reception up to 25 miles.
The set was available in a handsome gift box, with headphones, for $6. The set by itself, without headphones, sold for $3.40.
From the number of surviving examples, it appears that the radio indeed not a junky toy. Quite a few specimens can be found through a Google Images search.
The Beaver Machine & Tool Co. does not appear to survive today. Its address is what appears to be a residential section of Newark, and there's no record of the company. At the time of this ad, however, it was involved in a patent infrignement suit regarding electrical switches. It had been sued by Cutler Hammer for infringement of two patents. Beaver got a belated Christmas present on January 5, 1925, when the U.S. Second Circuit Court of Appeals held the two patents invalid.

Click Here For Today's Ripley's Believe It Or Not Cartoon