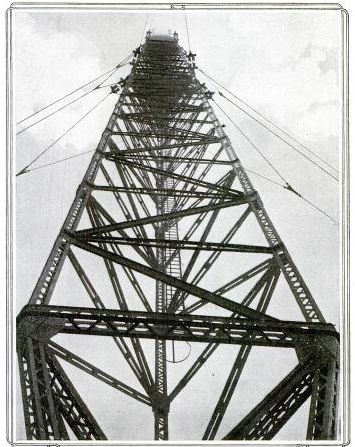 This photo from the November, 1914, issue of Popular Mechanics shows the world's largest radio tower at Tuckerton, New Jersey.
The caption notes that the station was now under the control of the U.S. Navy Department. As mentioned in an earlier post, this station was originally German and part of the Goldschmidt System, and communicated with the German station near Hanover. Even though under Navy control, German nationals continued to operate the station until the U.S. entered the war, at which time the staff became prisoners of war.
The tower itself stood 680 feet tall. At the time, it operated with the call signs WCI and WGG. After the war, the station was seized by the U.S. Government as part of Germany's war reparations, and was sold to RCA, which operated it under the call sign WSC. The tower was taken down in 1955, but its three massive anchor blocks still exist. A good set of photos of these massive monolith cubes can be viewed at this site.