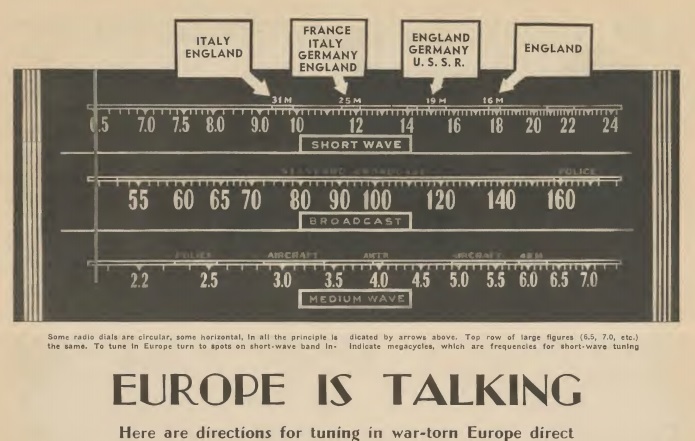 Seventy-five years ago, Europe was once again at war, but America was for the time being neutral. But the shortwave bands were alive with the sounds of war, and Radio Guide, the predecessor to TV Guide magazine, was covering shortwave radio. The issue of the week ending October 6, 1939, gave some pointers for tuning in, as well as reviews of what could be heard from the European capitals. One article notes that "many listeners have given up tuning short waves in disgust after one or two feeble attempts, mainly because they did not know exactly where and when to tune for foreign programs intended for their consumption." The article assures that by following the given instructions carefully, many stations could be heard.
Another article reviews the programs, and notes that the BBC attempted to appeal directly to the German people, and continued in its musical program to include German composers. It notes that French broadcasts were typically quite terse.
And as for the Germans, the article notes that while the output is typically crude, "the German stations have come up with the up-to-now cleversest device of combining propaganda with entertainment." The station would play German waltzes and "only after the listener has settled down to a stretch of pure entertainment that the announcer quietly intersperses" propaganda.
For more information on the shortwave bands during the War, please visit my earlier post.