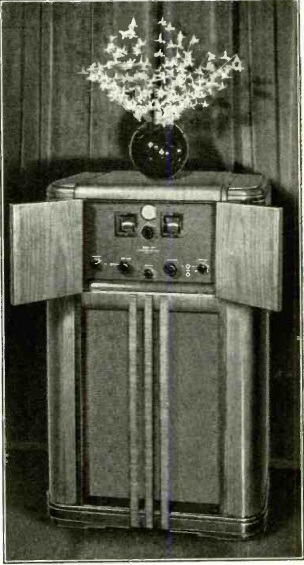 The Hammarlund Super-Pro series of receivers represent one of the best performing prewar communications receivers. The line was first introduced in 1936, and when war came, they took the BC-779 nameplate for the military version.
Thousands of the models making up the series rolled off the Hammarlund assembly line over the years, but one of the rarest variations is shown here, and it appears that only about 70 were made.  Inspired, no doubt, by high-end home consoles such as the McMurdo Silver, Hammarlund decided to move the set from the ham shack to the living room.  So they put it in the cabinet shown here, as seen in the August 1937 issue of Radio World.
But it wasn't just any cabinet that they slapped it into.  As the accompanying article explains, the cabinet was carefully designed for its audio qualities, particularly the bass response.  There's no doubt that the set was a top performer, and I'm sure it sounded good.  Since it was destined for the living room, a few modifications were made.  For example, even though the set had a BFO for listening to code, the BFO pitch was not adjustable from the front panel.
But it was a flop as far as sales.  As the Radio Boulevard site explains, "it just wouldn't do for hams – it had no BFO on the front and it was too big. It didn't have the Scott or McMurdo chrome chassis – how could you impress your friends?"  The site does have a picture of a nicely restored specimen, owned by AA6S.  From the color picture, it does look like a communications receiver thinly disguised as a console.  The front panel is faux walnut, and just looks out of place.  It's not quite a communications receiver, and it's not quite a console.
I'd love to have one in my living room.  And as a loyal reader, you would love to have one.  But let's face it, nobody else would want one!