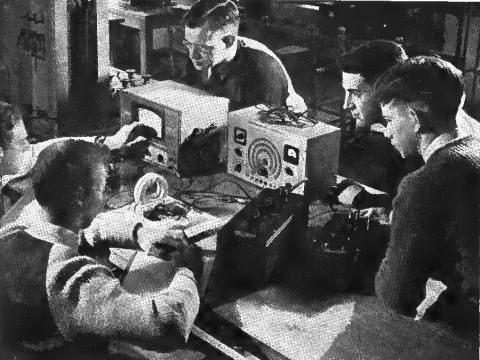 Seventy-five years ago, these high school students in Watertown, N.Y., were seen as a resource that would help the radio industry deal with wartime labor shortages. An article in the October 1942 issue of Radio Retailing explained the plan by which high school students could be trained to fill the gap. A group of servicemen in northern New York were planning to run an intensive course in radio servicing, open to high school seniors with a year of physics. The course was to be offered five nights per week, two hours each night, for ten weeks, and was taught by local servicemen who would both lecture in the classroom and offer periodic trips to the shop to tackle real receiver problems.
Classes would be small, and after it was completed, one or two students would take over the shop of an owner who had entered the military, running the shop on an evenings-only basis. The student would be paid a weekly wage based upon volume. Repairs would be paid by check or money order. The idea was to keep the shop open as a community service, with enough income to cover the shop's rent, overhead, and cost of equipment.
The students would continue to attend school during the day and work at night.