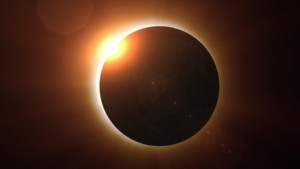 During the August 21 solar eclipse, I'll be contributing some radio propagation data by making beacon-style transmissions on 7 MHz from the path of totality.  These will be picked up by the Reverse Beacon Network, and can be analyzed later to see how the eclipse affected radio signals traveling through the ionosphere.
Such experiments are nothing new, as shown by an article in the February 15, 1925, issue of Radio Progress.  Radio station WJAZ was one of several portable radio stations licensed in the 1920's. The station was owned by and licensed to Zenith Corporation, and was mounted on a one-ton truck chassis. It was originally built in 1924 for testing to determine the best location in Chicago for the company to build a permanent station. It continued service to promote Zenith radios by rolling into towns to provide something for local radio buyers to listen to. The station was equipped with a battery operated 100 watt transmitter, a generator, and 53 foot telescoping antenna masts.
In anticipation of the  eclipse of January 24, 1925, the company brought the station to Escanaba, Michigan, which was on the center of the eclipse path of totality.  This eclipse was visible along a path from northern Minnesota extending to the northeastern United States and then over the North Atlantic.  WCCO in Minneapolis managed a live remote broadcast with a portable transmitter in an airplane.
After driving the 1120 kHz portable station to Escanaba, Zenith set it up at the rear of a garage building with a 100 foot antenna running almost straight up the mast. The studio was set up in the front show window. For the three nights preceeding the eclipse, the station ran a musical program from 10:00 PM to 1:00 AM and solicited reception reports. An average of 500 reports were received by telegram each night, since the station was awarding free Zenith receivers to those reporting from the greatest distance, as well as to listeners selected by drawing. The greatest distance covered during those tests was about 800 miles.
The night before the eclipse, the station was on the air from 10:00 PM until 1:30 AM. At 3:00 AM, the station was back on the air in advance of the 8:02 AM eclipse, and remained on the air until 9:00 AM.
The station reported that between 3:00 and 5:30 AM, only ordinary results were obtained, with a few telegrams coming in from Missouri, Kansas, and Nebraska. As the normal "gray line" propagation began at about 5:30 with the sun starting to rise, propagation was enhanced, and telegrams were received from as far away as Oklahoma. As the station began to go under the shadow of the moon, the station reported that the normal early morning enhancement of propagation continued, with reports being received from Nebraska, North Carolina, Ontario, Oklahoma, Kansas, and Iowa.
The article concludes that the tests "proved conclusively that the theory of ionization and absorption of radio waves due to the sun's rays is no longer a theory only, but actually a fact."