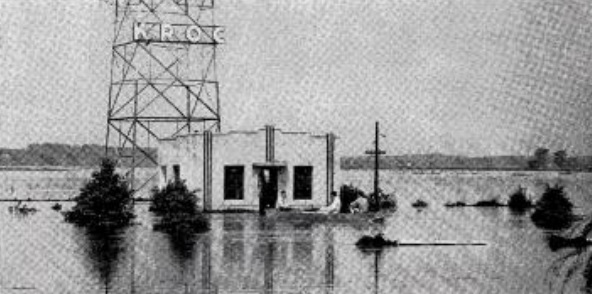 This photo of a flooded KROC, Rochester, MN, appeared in Broadcasting magazine 75 years ago today, June 15, 1942.
The picture was apparently taken on June 4, 1942, during a localized flash flood  along the Cascade creek which caused one death. Between June 3-5, the Rochester airport had recorded 3.26″ of rain, with 2.33″ of that falling within a single day. The creek basin had apparently received even higher rainfall.
The magazine noted that the station staff had to ignore the biggest news story of the year as it literally flooded right into the station's doors. Due to wartime restrictions on weather reports, the announcer on duty had to ignore the waters rising around him, despite his strong desire to tell listeners about it as the water slowly climbed to waist depth.
"Just as the tubes began to sizzle," they cut power and waited calmly for three hours until being rescued. While they waited, they were said to amuse themselves by warding off the rabbits, field mice, gophers, frogs, and pheasants that had sought sanctuary on the tiny island.
Damage was estimated at $1500, and the station was back on the air in less than 12 hours.