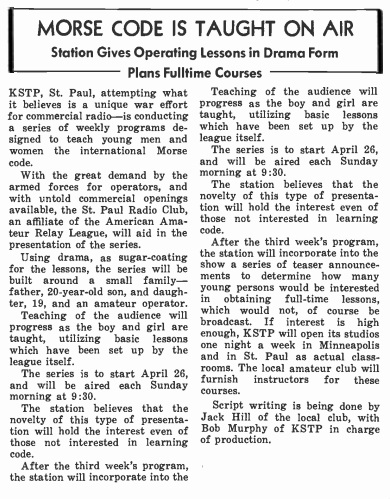 On this day 75 years ago, April 26, 1942, KSTP radio in St. Paul, MN, began an innovative program, as described in the article shown here from the April 27, 1942, issue of Broadcasting.
According to the report, the station was doing its part to help satisfy the great demand by the armed forces for radio operators, by conducting weekly programs designed to teach young men and women the international Morse code.
The weekly program aired Sundays at 9:30 AM, and "used drama, as sugar-coating for the lessons." It was built around a small family, one of whom was an amateur operator. Script writing was done by Jack Hill of the St. Paul Radio Club, using lessons from the American Radio Relay League.
After the third week's episode, the station planned to incorporate "teaser announcements" into the program in an effort to determine how many would be interested in lessons one night a week in classrooms in Minneapolis and St. Paul. The St. Paul Radio Club would furnish instructors for those courses.
The program seems to have been a great success, as reported in the September 1942 issue of QST (pp. 80-81). The fifteen minute weekly programs resulted in a total of 325 Twin City residents signing up for the classes, initially held at KSTP's Minneapolis and St. Paul studios, with advanced students moving on to classes at the YMCA.
According to QST, transcripts of the radio broadcasts, featuring the "Strong" family, were available by mail by writing to Hill at 1138 Fauquier Avenue (now known as Bush Avenue) in St. Paul.