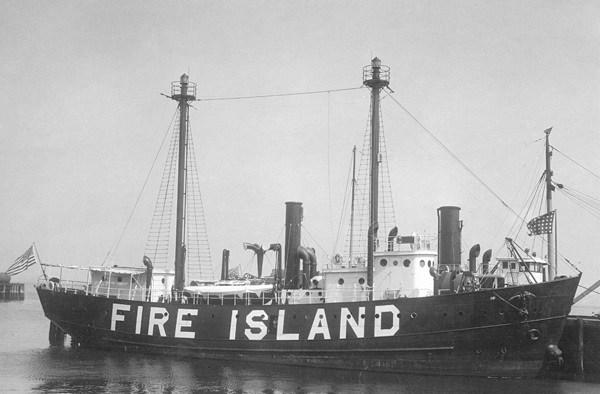 A hundred years ago this month, the March 1917 issue of the Wireless Age carried a description of the distance measuring apparatus in use by the Fire Island Light Ship,  The light vessel, located in New York Harbor, was equipped with apparatus which would allow an approaching ship to accurately measure its distance from the station.
To do this, the light vessel used a radio transmitter (call sign NLS) and a 1000 pound submarine bell. The bell would strike a sequence. At a precise time after the first strike of the bell, the radio would send a series of dots. An approaching ship would hear the bell, followed by the radio signal. The difference in time between these signals would correspond to the distance travelled by the two signals.
The announcement explained that the best way to copy the signal would be with headphones connected so that the wireless signal was played in one ear, with the other receiver connected to the submarine bell detector.  It would then be an easy matter to distinguish the signals.  Since the dots coming from the radio transmitter followed a carefully controlled pattern, it was necessary only to count the dots heard prior to hearing the bell.
The radio operated on a wavelength of 600 meters (500 kHz), and ran continuously during thick weather, and during the first 15 minutes of the hour during clear weather.
The vessel, Lightship LV-68, was built in 1897 at a cost of almost $75,000, and had a length of 122 feet. Each of its masts held a 100 candlepower electric lamp. It also carried a 12 inch steam whistle in addition to the bell.  It remained in operation until 1930.
References