Taken in January 1943, this photograph shows a Peñasco, New Mexico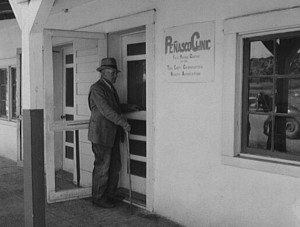 public health nurse relaxing with the radio in her quarters after dinner.  According to the photo's caption,  "the radio is the only contact with the outside world. Papers come rarely to the town, and the nurse (identified in other photos as Marjorie Muller) at the clinic operated by the Taos County cooperative health association must depend on the news broadcasts to follow daily events."  She served at the clinic shown at right.
The radio is Zenith model 6G-601-M, as revealed by the distinctive sailboat design on the speaker grill. You can see a well preserved example at this link.  The set was similar in circuitry and styling to the Transoceanic, but covered the broadcast band only.  You can see and hear a nicely preserved specimen of the radio at this video:
The six tube portable (3Q5GT, 117ZG, 1LH4, 1LF, 1LN5, 1LA6) could run off 110 volt household current or batteries. It's almost certain that the set was being run off batteries, since it seems very unlikely that the clinic had electric power. This and other photos show a kerosene lamp, and there's no evidence of electric wires in any of the photos. The clinic did have a telephone, as shown in another photo in the collection.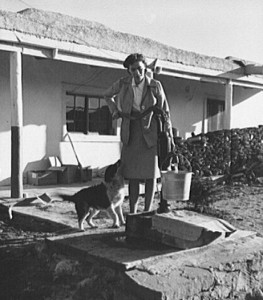 The radio's dial is tuned to just below 900 kHz. An antenna is visible coming out the window in the picture here of Nurse Muller outside her residence. According to the 1943 White's Radio Log, there don't appear to be any powerful West Coast stations near that frequency. But it was night, she had a powerful receiver and an outdoor antenna, and it's likely that she was listening to WLS in Chicago on 890 kHz. If that's the case, it's possible she was listening to NBC Blue Network news with Earl Goodwin at  7:00 Central War Time, which would be 6:00 P.M. in New Mexico.
The photographer for all of the photos shown here was Farm Security Administration/Office of War Information photographer John Collier, Jr.  More of his photos of the clinic are available at the Library of Congress website.