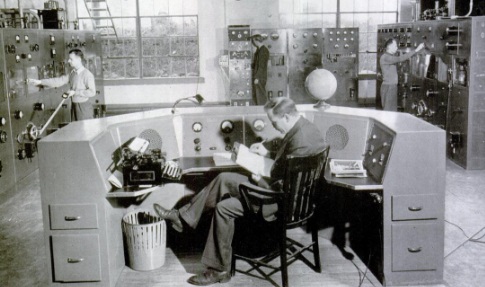 Shown here as it appeared at the time of America's entry into the War is the control room of Boston shortwave station WRUL. The image appeared in the December 15, 1941, issue of Life Magazine.
The magazine was obviously put together immediately after the attack of December 7, since most of the articles refer to an America that was preparing for war, but still at peace. Only a middle section of the magazine includes images of the attack.
This image is from an article profiling the shortwave station which, according to the magazine, the Nazis hated and feared.
It was billed as the nation's most powerful shortwave transmitter, and was "waging a mighty war of propaganda against Adolf Hitler and his allies." The station's transmitters were 50,000 and 20,000 watts, with plans to increase. Programs went out day and night in 24 languages.
The station had come on the air in 1927 under experimental license W1XAL. With the outbreak of war in Europe, unbeknownst to the staff, the station came largely under the control of British Intelligence. With America's involvement in the war, the station was leased to the U.S. Government. In 1962, under new ownership, the call letters were changed to WNYW for "Radio New York Worldwide," with studios in New York and the transmitter reamining in Scituate, Mass. In 1973, the station was acquired by religious broadcaster Family Stations, Inc., and operated as WYFR until that station moved its transmitters to Okeechobee, Florida, in 1979.