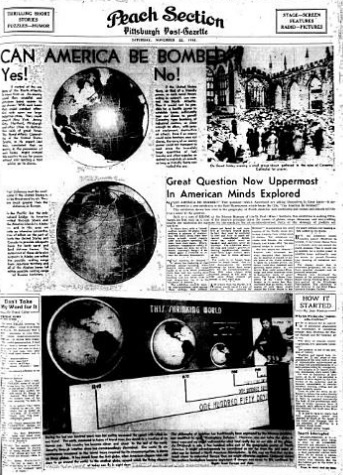 Seventy-five years ago today, only two weeks before Pearl Harbor, the Pittsburgh Post-Gazette for November 22, 1941, posed the question of whether America could be bombed, and included contradictory answers:  Yes, an air raid was possible, but a Coventry-style attack on the Continental United States would be impossible, as long as America or a friendly navy controlled the Atlantic.
The article didn't mention the Hawaiian or Philippine Islands which would be so obviously in the news in a fortnight.  However, it did look at the Pacific situation on the continent.  From Japan, air raids could possibly be made against Alaska.  If Siberia fell into enemy hands, then most Alaskan bases could be raided at will.
The focus of the article was a traveling exhibit put together by the Science Museum of Minnesota.  After being displayed in Minnesota, the exhibit was on tour, and was making its first stop in Pittsburgh.