During the 2016  ARRL National Parks On The Air (NPOTA) event,  Amateur Radio operators are celebrating the 100th anniversary of the National Park Service (NPS) by setting up their equipment in NPS units  to make contact with other Amateurs around the world.  Since the beginning of the year, the event has been extremely popular, with over 13,000 activations from 450 different different units of the NPS and over 700,000 individual two-way contacts.  As I've reported in other posts, I've made contact with 281 different parks and operated multiple times from six parks in Minnesota and Wisconsin.
One of the event's successes has been encouraging visits to the parks.  Until recently, my activations have been confined to the NPS units in Minnesota and Wisconsin.  Last week, I had to be in Sioux City, Iowa, for one of my continuing legal education programs.  The city lies along the path taken by Lewis and Clark as the traveled from St. Louis to the Pacific Ocean, and is therefore part of an NPS unit, the Lewis and Clark National Historic Trail.  Because the trail's sheer length, and because it passes through so many other notable sites, it is the NPOTA's most popular activation site, with over 13,000 individual contacts made.  Since my son had recently been studying Lewis and Clark in school, I decided to bring him along.
Sioux City marks the point where the only death during the 1804-06 Corps of Discovery's expedition took place.  Sgt. Charles Floyd is buried under a prominent obelisk on a bluff overlooking the river.  The Sioux City riverfront contains two museums devoted to Lewis and Clark's journey.  The first is in a drydocked former riverboat, the M/V Sergeant Floyd.  The ship was an Army Corps of Engineers Inspection Vessel.  Interestingly, the ship contains a ham station, although it's supposed to be a recreation of the ship's radio room.  As you can see from the photo below, the radio room is equipped with an E.F. Johnson Viking Valiant and a Hallicrafters S-40.  Even though these amateur rigs appear to be out of place, it was interesting to see this inadvertent ham station set up.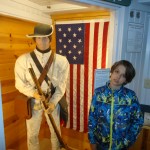 The museum also contains the forensic reconstruction of Sgt. Floyd shown here, created from a plaster cast of his skull.
The second museum on the riverfront is the Sioux City Lewis & Clark Interpretive Center, which includes animatronic versions of Lewis, Clark, President Jefferson. and "Seaman," the expedition's Newfoundland dog.
Conditions were relatively poor the day I visited the site, and my initial attempt with a mobile antenna was unsuccessful.  Since the day was nice, I returned and set up a dipole at a picnic shelter overlooking the river and made ten contacts on 20 meter CW.
Read More at Amazon