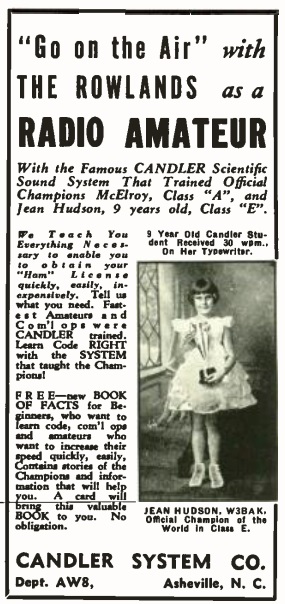 Eighty years ago, the August 1936 issue of All Wave Radio magazine carried this ad for the "Candler Scientific Sound System," which would "teach you everything necessary to enable you to obtain your 'Ham' License quickly, easily, inexpensively.  Tell us what you need."
Apparently, The Candler System took particular pride in teaching the code, and the ad points to two champions of some code competition, both products of the Candler System.  One of these champions was 9 year old Jean Hudson, who is pictured with her trophy.
Surprisingly, I've been able to find very little about Miss Hudson, but I did find an article in the June 1933 issue of Radio Magazine, which reveals that she was actually eight years old when first licensed.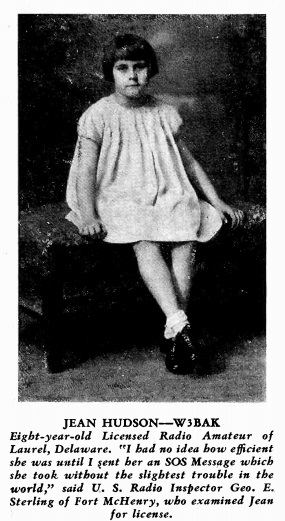 According to the 1933 article, she was the daughter of Edgar L. Hudson, W3BAK, of Laurel, Delaware, whom the magazine described as a "veteran Morse operator, an ardent radio amateur and one of the world's proudest dads." Jean's brother Roland, 14, was also licensed as W3AXP. And Jean's older sister, Dorothy, was also preparing for the license.  According to this site, Dorothy was licensed in 1935 as W3IRR.
The only call sign I found associated with Miss Hudson was W3BAK, her father's call.  So apparently, while she received an operator's license, she did not hold her own station license.
Born in California, the family moved to Laurel, Delaware, where Jean first showed an interest in radio. Telegraph keys and related equipment fascinated her, and she soon learned to send and receive code. With some tutoring from her father, she studied transmitters, receivers, and the rules and regulations, and on April 26, 1933, she took the test from the radio examiner at Baltimore. She sat on a thick dictionary to reach the examination table, and passed the code test with no difficulty. Her written examination showed a score of 80%.
Jean copied code on a typewriter, and since she touch typed, she could copy 25 words per minute blindfolded. The QSL card for her first contact, April 28, 1933, is shown below.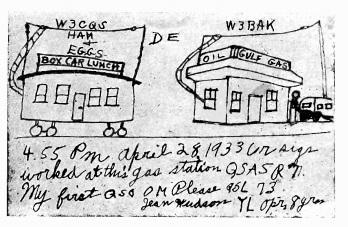 The 1938 Call Book lists W3BAK as belonging to Edgar, with no listing for W3IRR.  Edgar continues to be listed as late as 1968.   There is no listing for that call in 1974.  In May 1942, Jean Hudson, under the call W3BAK, wrote an article for QST on the subject of amateur radio at summer
camps, and recounts her experience in setting up a station at a girls' camp in New Hampshire, which she believed to be the only such station in existence.  That article lists her address as 660 Riverside Drive, New York City.  And in the June 1945 issue, she wrote a longer article, "His Last Strike," recounting the story of Lt. Joseph Hyland, W2ITR, who was killed in action on January 12, 1945.  That article shows her address as 530 E. 90th St., New York, 28.
I was unable to find any reference to Miss Hudson after 1945, and found no indication that she was ever issued her own station license.  If you have any additional information about this pioneer amateur, I would enjoy hearing it.
Click Here For Today's Ripley's Believe It Or Not Cartoon