The flag of the United States was adopted by the Second Continental Congress on June 14, 1777, and Flag Day had been celebrated in many places on June 14. But it was a hundred years ago today when it began as a national observance in a big way. In preparation for leading the United States into the European war, President Wilson officially proclaimed June 14, 1916 as Flag Day. The event was marked by a massive parade led by the President, shown here. Billed as a "Preparedness Parade," Wilson, wearing a straw hat, led the parade down Pennsylvania Avenue to the White House, where he sat in review. According to the Washington Times, "with shoulders thrown back and head erect, President Wilson, carrying a large silken flag, marched on foot today at the head of Washington's Preparedness Parade."
At the White House, a reviewing stand, decked in patriotic colors, had been set up, and the President and his party reviewed the parade as the 60,000 participants passed.
The two in the picture in top hats were the President's Secret Service detail.
Not surprisingly, Amateur Radio Operators were among those taking part in the Preparedness Parade.  As shown here in the order of the parade from the previous day's Washington Herald, they marched just ahead of the Banks and Trust Companies.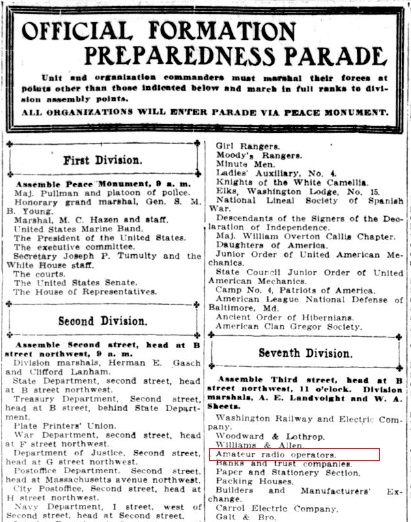 Click Here For Today's Ripley's Believe It Or Not Cartoon