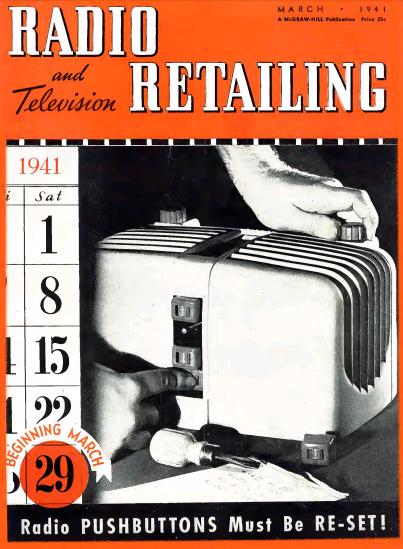 As we previously reported, today marks the 75th anniversary of a major change in the standard AM broadcast band in North America.  At 3:00 AM on March 29, 1941, most stations in the United States and Canada moved up the dial slightly.  The broadcast band was expanded to accommodate Mexican clear channel stations, and the result was that most American and Canadian stations had to make changes to their transmitter frequency.
At the time, millions of American radio receivers had pushbutton tuning, and all of those buttons had to be reset for the new frequencies, resulting in a small boom for servicemen.  Shown above is the cover of the March 1941 issue of Radio Retailing, showing a serviceman making the change on a small table set.
The magazine stressed the fact that the change was an opportunity for dealers to make contact with customers, "an absolutely unique invitation to more more major merchandise, with the promotional expense at least partially covered by service and accessory sales."
It noted that most dealers were charging about $1 for the service call, with higher charges in some areas. For example, the Philadelphia Radio Service Men's Association recommended a $2 charge. Some dealers were charging $1 if the set was brought in, or $1.50 if the work was done in the customer's home.
The magazine suggested that the service call could offer an opportunity to perform other service, such as cleaning or alignment, especially if the set had to be removed from its cabinet.
Being in the customer's home also represented an opportunity to sell a new set or even another appliance.
The magazine's April issue reported that the overall effects of the shift were good, with interference being eliminated in many cases. While dealers reported reports for service calls, there were not as many as expected, and there was no "service jam." It also encouraged dealers to keep up their promotional efforst:
And a big job it is. The radio dealer's opporunity to profit by using reallocation resetting as a stepping-stone to additional business is just beginning. 10,000,000 people with pushbutton-tuned radios can't be contacted overnight. It will be weeks before the public becomes fully aware of what is missing through failure to have adjustments made. And it will take months of selling to induce them to do it.
Click Here For Today's Ripley's Believe It Or Not Cartoon