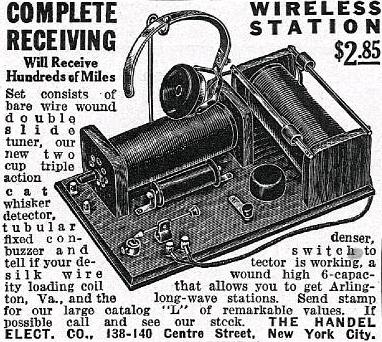 One hundred years ago, a Boy Scout interested in wireless could get this complete receiving station for only $2.85, as advertised in the August 1915 issue of Boys' Life.  It's unclear whether the headphone was included for that price. While a headphone is shown in the picture, it's not mentioned in the description, which leads me to suspect that a few Scouts might have learned the disappointing phrase "sold separately" after placing the order.
In any event, the set was probably capable of picking up the time and weather signals of NAA, at least for those within a few hundred miles of Arlington, Virginia. The set is described as consisting of "bare wire wound double slide tuner, our new two cup triple action cat whisker detector, tubular fixed condenser, buzzer and switch to tell if your detector is working, a silk wire wound high 6-capacity loading coil that allows you to get Arlington, Va., and the long wave stations."
In addition to the possibly missing headphones, the owner of the set would need to come up with some wire for an antenna and ground connection. But the set appears to be capable of picking up NAA and other stations. As the ad mentions, the test buzzer would be helpful in making sure the cat whisker was set to a "sweet spot" on the crystal. A battery would also be necessary to operate the test buzzer.
The set was offered by the Handel Electric Company of 138-140 Centre Street, New York.
Click Here For Today's Ripley's Believe It Or Not Cartoon