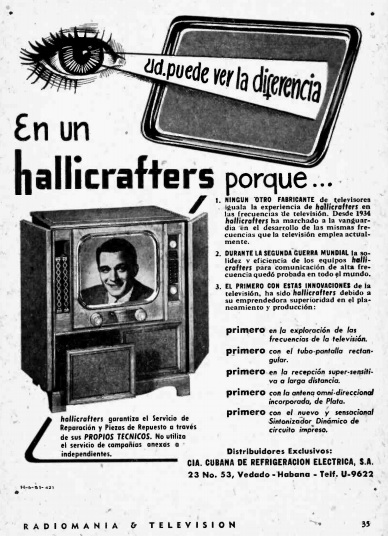 The magazine Radiomania y Television gives an interesting look at pre-revolution Cuba.  This Hallicrafters TV ad appeared in the January 1952 issue.  In addition to the equipment ads, it gives an interesting look at the programming, which appears to have been mostly produced in Cuba.  In addition to about two dozen standard broadcast stations, the island had one FM station (CM2IL on 102.7 MHz) and two TV stations, CMUR-TV, channel 4, and CMQ-TV, channel 6.
Interestingly, the Hallicrafters dealer seems to have an indirect connection with the revolution.  As seen in the ad, the exclusive Hallicrafters dealer was Cia. Cubana de Refrigeracion Electrica, S.A.  About this same time, the bookkeeper at the company was one Reinaldo Boris Luis Santa Coloma.  At some point, he lost his job for trying to organize a union, and later got a job at Sears.  At some point in 1952, he was at the law office of a young attorney named Fidel Castro, where he met his mistress and the mother of his child.
The next year, he was one of 135 revolutionaries who, along with Castro, attacked the Moncada Barracks, which is widely regarded as the start of the Cuban Revolution.
References