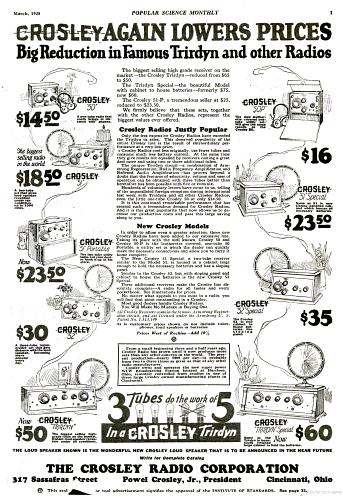 Ninety years ago, here was what was available in radio. This ad from the Crosley Radio Corporation appeared in Popular Science, March 1925.
Crosley Radio was founded in 1921 by Ohio industrialist Powel Crosley, Jr. To encourage sales, he began broadcasting with a 20 watt transmitter from his home. In 1922, the company began operating WLW radio, originally with a 50 watt transmitter, which was increased to 50,000 watts over the next six years. Crosley realized that with a more powerful transmitter, he could sell cheaper radios, and the station operated for a time in the 1930's with 500,000 watts.
The least expensive model in this ad was the Crosley 50, with a list price of $14.50. Not mentioned in the ad was the fact that this price didn't include the tube and headphone, which would bring the price up to $22.25. The top of the line was the Trirdyn Special for $60, which would drive a loudspeaker (not included, of course) with even distant stations. It featured a solid mahogany cabinet.
Crosley Radio and WLW were sold in 1945 to AVCO, which used the brand name until 1956. The name was eventually purchased and is still in use by another company bearing the name Crosley Radio, which capitalizes on the vintage name.
Click Here For Today's Ripley's Believe It Or NotCartoon