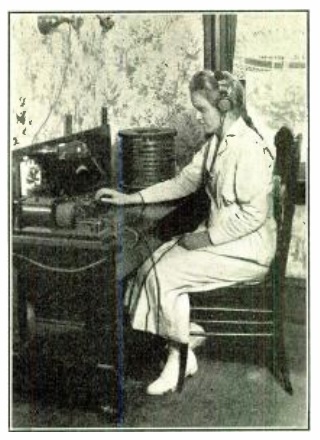 A hundred years ago, the young lady shown here, 6SO, was burning up the ether of the West Coast.
Shown here in the August 1916 issue of The Wireless Age is Miss Kathleen Parkin of San Rafael California. which the article identifies as one of the youngest girl wireless operators in the world. She was fifteen years old and held a first grade commercial license, having gained her knowledge of radio in her brother's station where, as she said, "I spent every minute of my spare time, and often helped him make his instruments." She constructed, without assistance the 1/4 kilowatt transmitter shown here, and was in the process of making a rotary spark gap and a receiver with vacuum tube detectors. At the time, she was using a galena detector, but successfully receiving up to 1000 miles.
According to Wikipedia, her full name was Gladys Kathleen Parkin, and she was born in San Francisco in 1901, and moved to San Rafael after the 1906 earthquake. She received her amateur license at the age of 9 (in about 1910), and she died in 1990.
In the 1923 call book, she is listed as holding the call 6BP. However, in the 1938 call book,
there's no listing for W6BP.  I was unable to find any later history about Miss Parkin. If you know more about this wireless pioneer, please add a comment or contact me.