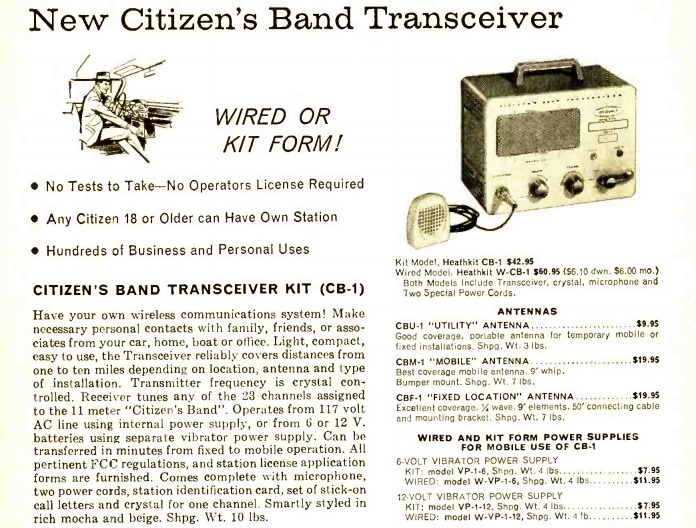 Most hams who have been around a while have encountered the "Benton Harbor Lunchbox."  This was a series of transceivers from Heathkit, and the most common were the HW-30 "Twoer," which covered two meters, and the HW-29 "Sixer" for six meters.  Less common was the HW-19 "Tener" for, you guessed it, ten meters.
These were very popular in their day.  They were a single-band transceiver.  The transmitter put out about 5 watts of AM, and the receiver was superregenerative.  The tuning was very broad, but once they locked on to a signal, they were surprisingly sensitive.
By the time I became a ham in the 1970's, VHF AM was virtually gone.  There was one six-meter AM net in the Twin Cities that hung on, and I was a regular check-in with my Sixer and later a Gonset Communicator.  But FM had taken over two meters by then, and Twoers were basically given away for practically nothing, even though they were often in pristine condition.  I owned many of these little rigs, and at one time I owned a complete collection.
My collection included the lesser-known cousin, the Model CB-1 CB transceiver shown here.  The CB model came out in about 1960, and is shown here in this ad in the February 1960 issue of Popular Electronics.
It sold in kit form for $42.95, and was also available wired for $60.95.  It featured one crystal-controlled channel (the crystal was included).  The receiver was the same superregenerative receiver used in the other Lunch Boxes, and was calibrated for channels 1-23.  It had a built-in power supply for 120 volts.  For mobile use, it used an external power supply, which consisted of a vibrator and transformer.  The power was supplied to an octal plug on the back (the same as the bottom of a tube).  The 120 volt power cord and the DC power supply had  octal sockets on them, along with appropriate jumpers.
Click Here For Today's Ripley's Believe It Or Not Cartoon