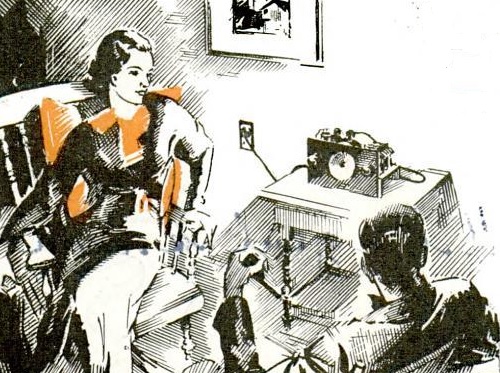 The depression-era couple shown here are relaxing to the sounds of a three-tube standard broadcast receiver constructed according to plans which appeared eighty years ago, in the February 1935 issue of Popular Mechanics.
The three tubes served as an RF amplifier, detector, and audio amplifier. The 12A7 power amplifier also contained the rectifier, allowing the set to operate on either AC or DC household current. The filaments were wired in series, with a 300-ohm "curtain burner" cord used to drop the voltage. The article reported that the set would pull in stations up to 150 miles away during the daytime with a 20-foot indoor antenna, with reception of up to 1500 miles with good volume at night. The cost of parts was reported as being $6.50.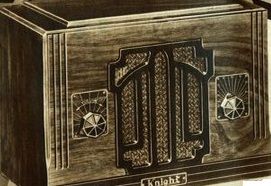 The least expensive radio in the Allied Radio catalog in 1935 appears to be the 4-tube model shown here, Knight Model G-9503.  Even though this Knight radio featured four tubes rather than three, the circuits were almost identical, since the Knight set had a separate rectifier, rather than the combined tube in the Popular Mechanics model. Therefore, the value-conscious buyer in 1935 could still save a few dollars by building his own radio.
The volume control of the Popular Mechanics receiver was actually an RF gain control, since it controlled the gain of the RF amplifier.
Click Here For Today's Ripley's Believe It Or Not Cartoon