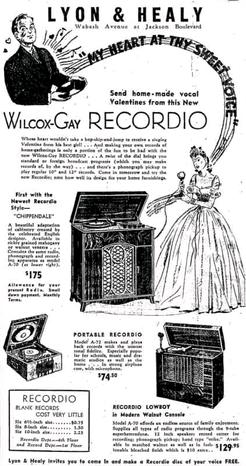 75 years ago, it was possible to do audio recording at home, but it was a pricey proposition. Magnetic recording didn't really become possible until after the war, and very few homes would have owned a tape recorder prior to 1970. But for someone who really wanted to immortalize their voice in 1940, it was possible to purchase the Recordio, shown in this advertisement from the Chicago Tribune, January 28, 1940.  Just in time for Valentine's Day, the ad shows a well-dressed young woman recording a "home-made vocal Valentine," presumably for the love-struck gentleman shown at the top of the ad.
The deluxe model into which the young woman is singing sold for $175, and included a radio covering standard broadcast and short wave. The ad noted that it was possible to make records off the air, and the unit also functioned as a player for purchased records. The same electronics in a more modest lowboy console was also available for $129.95, and a portable unit (apparently without radio) was available for $74.50.
That wasn't the only expense involved, however. The blank records ranged in price from 75 cents for six 6-1/2 inch disks, up to $2.25 for the same number in the 10-inch size.
The final product, which could of course not be erased, meaning that only one take was available, was a standard 78 RPM record that could be played on any phonograph, such as that owned by the gentelman shown at the top of the ad.
The manufacturer, Wilcox-Gay Corp. of Charlotte, Michigan, had been in business since 1910, making radios and dictation machines. The Recordio came out in 1939, and reportedly sold 25,000 units the first year. The company continued to make similar machines in the 1950's, but later models included a magnetic recorder in the same unit, which would allow recording a master before cutting the disk. If you search YouTube, you'll find surviving examples of the disks, such as this one of some aspiring musicians offering their rendition of "My Bonnie Lies Over the Ocean."
Musicians such as Les Paul and Johnny Cash were known to have used Recordios at some point in their careers.
Click Here For Today's Ripley's Believe It Or Not Cartoon