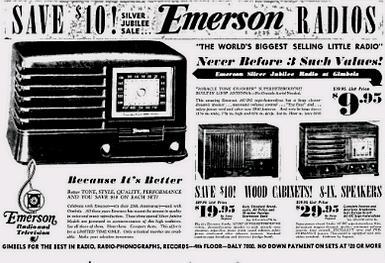 Seventy-five years ago, Gimbels Department Store in Milwaukee ran this ad for Emerson radios in the January 19, 1940 edition of the Milwaukee Journal.
For $9.95, you could get the standard broadcast receiver with a "miracle tone chamber" and built-in loop antenna. It came with a "safety power cord," which apparently meant that it didn't have a "curtain burner" cord with built-in dropping resistor for the filaments. This appears to be the Emerson Model 330 in a bakelite case.  You can see the radio in operation at this YouTube video.  Another nice example, along with the schematic, can be found at RadioMuseum.org or at N9DD's site.
$19.95 would get you a six-tube set that tuned police calls as well as the 49-meter shortwave band. It appears to have two bands, meaning that the police calls were probably at the top end of the standard broadcast band.
And for $29.95, you could get the seven-tube set which also covered the broadcast and shortwave bands for "complete foreign and American Broadcasts" with "EXCELLENT tone." This one appears to be similar to the Emerson Model 356, but with a slightly different cabinet. A nice video of a restored model in operation can be found at YouTube.
Click Here For Today's Ripley's Believe It Or Not Cartoon