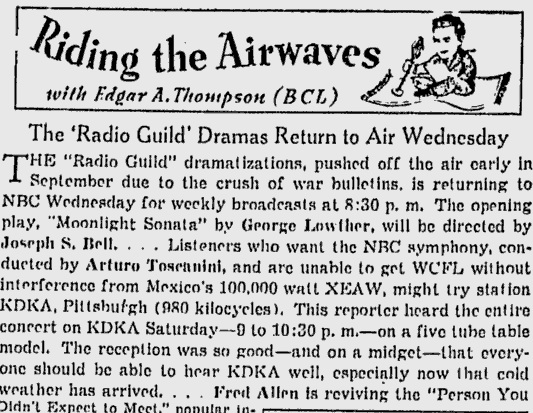 The radio column for the Milwaukee Journal 75 years ago today, October 30, 1939, touches on the phenomenon of "border blasters" in Mexico and how they affected U.S. radio listening. Milwaukee was essentially the same radio market as Chicago. Even though Milwaukee had its own stations, listeners there ordinarily listened to the Chicago stations, including WCFL, then on 970 kilocycles. In 1939, WCFL carried the NBC "Blue" network, and would have been the main outlet in Milwaukee for listening to that network.
During the daytime, WCFL would have provided good coverage to the Milwaukee area, but the situation was different at night. The radio columnist, Edgar A. Thompson, pointed out that listeners who wanted to hear the NBC symphony, conducted by Arturo Toscanini, especially in the northern suburbs of Milwaukee, would experience difficulty to to the 100,000 watt signal of Mexican station XEAW in Reynosa on 960 kilocycles.
The solution was to tune instead to KDKA Pittsburg on 980 kilocycles, where the columnist reported that he heard the entire concert on a five tube "midget" table radio with good reception.
XEAW was one of the "border blaster" stations in Mexico, broadcasting with powerful transmitters that blanketed North America from just across the Mexican border.  XEAW was owned for most of the 1930's by Dr. John R. Brinkley, a Kansas physician (with a degree from a diploma mill known as the Eclectic Medical University in Kansas City).  Brinkley's most famous cure involved an extract from goat testicles that would allegedly cure various maladies.  By 1939, Brinkley had sold the station to Carr Collins, another practitioner of alternative medicine, whose "Crazy Crystals" from Mineral Wells, Texas, were reported to have various curative properties.  It was probably Collins who was causing the interference to WCFL reported in this news item.
Brinkley owned at one time or another various of the "Border Blaster" stations in Northern Mexico, and he was quite well known throughout the United States.  My dad recounted hearing Dr. Brinkley, and his broadcasts were apparently a source of amusement on the farm radio in Indiana.  XEAW, weighing in at only 100,000 watts was one of the lower powered border blasters.  Some operated with power of up to 500,000 watts.  At one time, Brinkley was the owner of the most powerful radio station in the world,
The problems caused by the "Border Blasters" were largely solved in 1941 by the North American Radio Broadcasting Agreement.  Unlike Canada and the United States, Mexico had never been assigned any "clear channel" stations, and it therefore had little incentive to rein in powerful stations like XEAW.  The new agreement assigned clear channels to Mexico, on 800, 900, 1050, 1220, 1550, and 1570 kilocycles.  To make room for the new channels, the broadcast band was extended upward from 1500 to 1600 kilocycles.  As a result, most American stations changed frequencies (usually moving up the dial) the morning of March 29, 1941.  At that point, WCFL moved from 970 to 1000 on the dial.  It remained there as WCFL until 1987, when it became WLUP and later WMVP, which still inhabits 1000 on the dial.
Presumably, after 1941, WCFL's listeners north of Milwaukee no longer had to worry about goat testicles interfering with their concert listening.
After the 1941 agreement, "Border Blasters" didn't completely go away.  For example, Wolfman Jack famously broadcast on XERF, Ciudad Acuña, Mexico, in the 1960's.  XERF went on the air in 1947 using the facilities of one of Brinkley's old stations, which had been seized by the Mexican government in 1939 and had been dark for eight years.  XERF, however, operated on 1570, in full compliance with the 1941 agreement assigning this channel to Mexico as a clear channel.
References
Border Radio at Texas State Historical Association