According to this report, 40% of American food is wasted.  I suspect the actual number is lower than that, but I also know that a lot of food that could be used to feed people winds up in the garbage.  Until today, I haven't thrown any of my SNAP Challenge food in the garbage.  But today I did.  I took some perfectly good food and tossed it in the garbage.  I'm not proud of that statement–I'm just reporting the fact.
On Tuesday, I had pizza, which was fairly good.  Today, after lunch, I decided that I should finish the three remaining slices.  It wasn't great to start with, and three days in the refrigerator didn't help much.  I was already full, and the soggy pizza wasn't very appealing.  So I ate the remaining sausage and most of the cheese, but threw away 3/4 of a perfectly edible flour tortilla and a little bit of tomato sauce.  It was probably about ten cents worth of food, and now it's garbage that I need to pay to have hauled away, through my voluntary choice.
I've thrown away a lot less food this week than I normally would.  In fact, earlier this week, I was debating whether I should save my coffee grounds to see if I could nurse a little more coffee out of them the next day, even though most of them had already been used at least a couple of times.  I've been saving the empty margarine wrappers to grease pans.  But today, I'm still affluent enough to throw away food, and I did.  Does that make it right?  No, it probably doesn't.
WHAT I ATE TODAY
I'm down to three biscuits in the freezer, so last night, I decided to make another batch.  My wife suggested that I use the dough to make calzones instead.  For a filling, I browned a third of a pound of the hamburger, added the remaining quarter can of cooking sauce
 and grated cheese.  I pressed the dough flat, placed the filling on top, and then covered and sealed with another flat piece of dough.  I made a total of three.  I put these in the oven until they were golden brown and then froze them.  I had one for lunch today, and it is pictured below.
Speaking of throwing away food, I had a plate of flour that I used to coat the dough so I could work it with my hands.  At one point, I accidentally poured some sugar onto this plate, and wound up with a few tablespoons of a useless sugar-flour mixture.  Normally, I would have tossed it, but I instead set it aside.  It was food, after all.  When I was done, I added enough water to make it a dough-like consistency, and put it in the oven to bake.  Much to my surprise, the result was what can only be described as a cookie.  So it's apparently possible to make cookies with nothing but water, sugar, and self-rising flour
.  No, it wasn't the best cookie ever, but it was about the equivalent of a vanilla wafer.  I'll need to do some more cookie experimentation, although that will probably be after the challenge ends.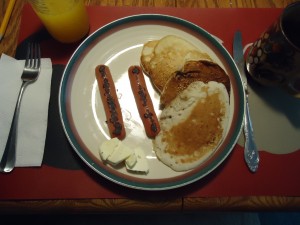 For breakfast this morning, I decided to see whether the minimalist approach would work with pancakes.  I used about a cup of flour, a half cup of sugar, and enough water to produce a batter of the correct consistency.  I poured it into a skillet lightly greased with margarine.  The result was surprisingly good.  The pancakes were definitely not "fluffy".  In fact, the consistency was what I would describe as somewhat "gummy".  But they tasted quite good with syrup and margarine.  I also fried one hot dog and served it all with a glass of Sunny D and, of course, a cup of my now abundant coffee.
Lunch consisted of one of the calzones and a small serving of the
vegetables.  It looks like I have about one more remaining serving about the same size.  The beverage was a glass from a fresh pitcher of Kool-Aid.  Desert, after picking over the remnants of the pizza, was more of the cookies.
Tomorrow, we'll be at an event where lunch is being served.  But since I paid for that food before the start of the challenge, I won't be allowed to eat it.  And I probably won't have time to make breakfast, so I'll need to bring something with me.  Finally, I'll be outside all day and will probably want a snack.  I toyed with the idea of going to Dollar Tree and buying some trail mix or granola bars.  But instead of walking all the way there, I decided to make that as well.
For lunch and snacks tomorrow, I made myself some sandwiches with the hamburger buns.  I made four ham and cheese sandwiches, two with mayonnaise and two with mustard, and two peanut butter sandwiches.  In addition, I packed the last muffin and made some cookies.  For breakfast, I'll probably eat the last two biscuits in the freezer.
For snacks, I made another batch of cookies, this time with some of the peanut butter. The recipe is similar to the cookies I made earlier this week.
PEANUT BUTTER COOKIES
Combine 1/2 cup sugar with 4 TBSP (1/2 stick) melted margarine (about 15 seconds in microwave) and 1.5 ounce (entire package–probably about 2 TBSP) softened peanut butter (about 20 seconds in microwave).  Beat in one medium egg.  Pour over 1-1/4 cup self-rising flour.  Mix well and place small balls on greased cookie sheet.  Flatten with fork, and bake about 14 minutes at 375F.  (The tops didn't get very brown, and I think a longer time at a lower temperature would be better.)  Makes 21 cookies.
I'm sure that many have noticed that I have the luxury of working from a home office, so my kitchen is not far away from my workplace.  I can easily take a break to prepare snacks or meals.  The amount of work I've had to do for meal preparation has been more than usual, but it hasn't been a lot of work.  At most, I'm spending one hour a day preparing food.  I realize, however, that most people receiving SNAP assistance don't have this luxury.  A large percentage of them work long hours, and they need to eat during their work day.  As my experience today shows, it is still possible to cope with these circumstances.  An hour's work last night netted three calzones, representing three meals that can be warmed up in a microwave.  The leftover pasta from a few days ago is still waiting for me in the refrigerator, ready to be microwaved.  While not universal, many workplaces have a break room with a microwave oven.   For those who work in places where no cooking equipment is available, food can be transported in an insulated container.  And, as I'll be doing tomorrow, the cold sandwich is a longstanding American tradition.  And, of course, for many years, my dad took to work a lunchbox with a curved lid.  As far as I know, most American workers owned an identical lunchbox.  It had a curved lid because that's where the thermos was stored.  And that thermos was invariably full of hot coffee.
Somewhere along the way, that style of lunchbox went out of style.  Indeed, the lunchbox itself went out of style.  I suppose for some people, the phrase "for the cost of a cup of coffee" might suggest a lavish expense.  But if you use that phrase with someone who was an American worker in the 1950's 60's or 70's, it's not going to mean very much.  For them, it's another way of saying zero, since the coffee was right there under the lid of their lunchbox.
Would my life be more difficult if I had to eat all of my meals away from home?  Yes, it most certainly would.  But it's not an impossible obstacle, as millions of working Americans will attest.
I'm posting this update before supper, which will probably be the leftover pasta from earlier this week.