The SNAP Challenge got to an uneventful start today. For breakfast this morning, I had two of the pancakes.  Because of the failure with the syrup last night, I put peanut butter on them.  On the way to church, I put an extra pancake and a couple of cookies in my pocket, which I had as a snack on the way home.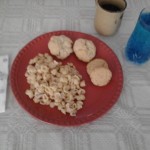 For a fast lunch, I made some tuna salad, consisting of pasta
, one can of tuna, and some mayonnaise
.  I had about half of it for lunch and saved the rest for later.  I also had two biscuits and a couple of cookies for dessert.  I didn't resort to drinking windshield washer fluid.  The blue liquid was actually Kool-Aid, since it turns out that the first batch was that color, undoubtedly with all-natural coloring.  I also had coffee.  For some reason, many SNAP Challenge participants add to the suffering by erroneously concluding that coffee is out of their budget.  I have plenty for a week, and it cost only about $2.  I am conserving somewhat, however.  Normally, I would go through the 10.5 ounce can in a little less than a week.  Therefore, I'm making it one cup at a time, and I should have plenty for the week.

For supper, I made experimental pizza.  Since one focus during my SNAP Challenge is the use of food appropriate for emergency storage, I decided to work with cheese.  Storing dairy products can be a challenge for some, but there are many options.  One of them is canned cheese
, such as shown here.  At WalMart, it cost about $2.50 for a 15-ounce can.  It's available in many supermarkets in the Mexican aisle.  This one is called "condensed," and for use in things like nachos, the instructions call for water to be added.  We normally buy the uncondensed version, which sells for about $2 for the same size.  It was out of stock when I made my shopping trip.
I used this cheese in pizzas, which are shown here.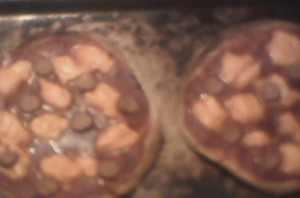 As you can see, they wound up looking a bit unusual, since the cheese didn't completely melt.  Chances are a more skilled chef would be able to make the pizza look a bit more presentable, but it tasted good.  The crusts are flour tortillas which I first coated with a bit of vegetable oil.  On top of that was some of the spaghetti sauce.  For toppings, I used about 1/4 of the can of cheese and two Vienna sausages.
Despite it's odd looks, this year's pizza tasted much better than my first attempt last year.  Last year, I used plain tomato sauce, and I didn't have many seasonings to work with.  As a result, it was rather bland. In fact, the pizza represented the one time that I threw away leftovers last year.  In addition, the canned cheese I used this year actually worked a lot better than the cheap cheese I used last year.  And ounce for ounce, the price was about the same.  I'll be using the canned cheese in other recipes over the next few days.  Even though the can of cheese represented my single largest expenditure this year, I think it was a good choice.
The can of cheese had an expiration date of May 2016, meaning that it has a shelf life of over a year.  It does look like a good option for emergency storage.  Calorie for calorie, it's more expensive than other options (about $2.50 for 700 calories), but it's still a good choice for adding a bit of variety.
I washed down supper with another glass of blue Kool-Aid and, of course, coffee.
Click Here For Today's Ripley's Believe It Or Not Cartoon