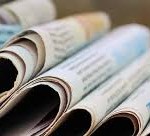 While it didn't mention OneTubeRadio.com by name, we were quoted in August by WJLA-TV in Washington, D.C.  In the excitement leading up the eclipse, I missed the article, but it covered many of the points addressed in our Take Your Kids To See the Eclipse post.
We were also privileged to be linked to by IEEE Spectrum for our description of the Luxembourg Effect.
Finally, this blogger recently wrote about our Elimination of Bias Continuing Legal Education programs.