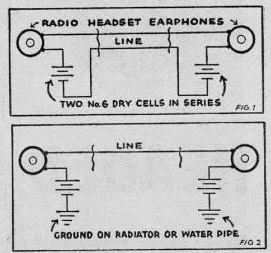 Sixty years ago, Maurice Peacock, Jr., of Radnor, PA, got $5 for sending these simple circuits to the "Hobby Hows" editor of Boys' Life, where they were printed in the November 1957 issue.
The circuit shows how to rig up a telephone system to a friend's house nearby, using an old radio headphone. One earpiece is used at each end, with batteries wired in series. Peacock explains that the wire needs to be insulated, and suggests that old thread spools can be used as insulators. The basic circuit is shown in figure 1. To save on the cost of wire, a good ground can be used as the return, as shown in figure 2.
I suspect the Boy Scouts of 1957 eventually figured it out, but the diagrams shown here wouldn't work. A minor change needs to be made.
I suspect that, just like the Boy Scouts of 1957, our readers will quickly spot the problem. When you've found it, please comment on our Facebook page.