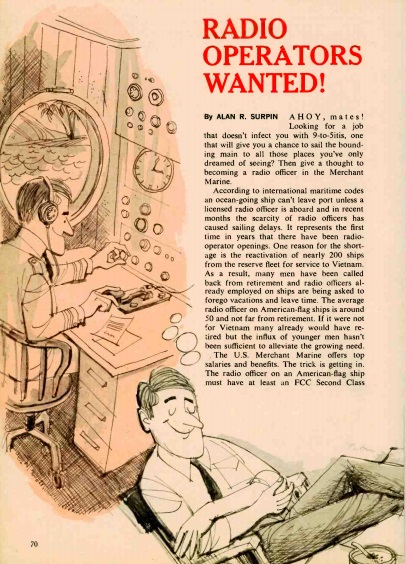 Fifty years ago, the November 1967 issue of Electronics Illustrated explained how the gentleman shown in this drawing could achieve his dream of seeing the world as a ship radio operator.
The article made clear that there were two conflicting priorities at work: The lines needed radio operators, but the unions had their own vested interest in keeping the supply tight.
Ships sailing under the American flag had to have a licensed radio officer aboard, and the lack of men sometimes meant sailing delays. One bottleneck was Vietnam. Two hundred ships had been called up from the reserve fleet. Many radio officers had been called back from retirement, and those on duty were being asked to forego vacations and leave.
Entry into the field wasn't easy. Most American ships carried only one radio officer, but he had to hold a First Class license. But to get a First Class license, you had to have six months' service at sea.
Because of the shortages, the Radio Officers Union recently started a limited training program. After six months, the man was ready to take an assignment on a one-man ship. After 18 months, he was entitled to full membership in the union. Base pay was $300 per month for the next six months, and then $600 per month for the next 18. After becoming a full member of the union, his pay shot up to $900-$1000 per month, with good benefits. Retirement, with about a third of the pay, was possible after just 20 years of service, regardless of age.
The magazine contained addresses of the union and companies for those interested in looking into a career at sea.