You can still get a hotel room to view the total eclipse for only $53!
August 21 Solar Eclipse Planning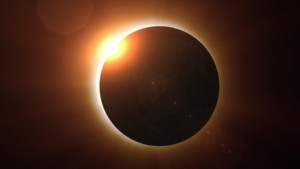 The total solar eclipse will take place on Monday, August 21. If you live in the Midwest, then it's extremely unlikely that you've ever seen a total eclipse, unless you happen to have visited Winnipeg in 1979. That was the last total eclipse visible in the United States, and was visible in the Pacific Northwest before moving through North Dakota and into Manitoba.
If you remember seeing an eclipse in the United States after 1979, then what you saw was a partial eclipse. The difference between what you saw previously and the August 21 event is literally the difference between night and day. During a total eclipse, such as will take place in August, the sky goes dark, stars come out in the middle of the day, and the sun's corona is visible.
During a partial eclipse, even one that is almost total, such as 99%, you might not even notice if you didn't know about it in advance. You'll probably notice that it's a bit darker outside, but the effect will be the same as a hazy or partly cloudy day. If you make a pinhole viewer, then you can see that the eclipse is taking place. But if nobody told you, you probably wouldn't even think to look. I've experienced multiple partial eclipses. They're somewhat interesting, but not really that big a deal.
On the other hand, a total eclipse is a big deal.  Some people travel to remote parts of the earth and spend tens of thousands of dollars to watch them. Some people fly their Lear Jet up to Nova Scotia to watch the total eclipse of the sun. It's dramatic, and for most people, it's a once in a lifetime experience.
Where to See the Eclipse if You Live in Minnesota or Iowa
On August 21, you won't have to visit some remote corner of the world. You won't even have to fly your Lear Jet up to Nova Scotia. You can easily drive to view the eclipse, but you need to do a little bit of advance planning, and you need to do it now.
As you can see from the map above, the path of totality does not pass through Minnesota.  In the Minneapolis-St. Paul area, about 80% of the sun will be obscured.  If you know what to look for, you'll notice it , and it will be moderately interesting.  But frankly, it won't be a very big deal.  You've probably seen it before, and you'll probably see it again.
Similarly, viewers in Iowa won't see anything very interesting.  Most sources don't even list Iowa as being within the path of totality, although this is not quite correct.  A tiny piece (about 450 acres, specifically, Ivan Woltemath's soybean farm) in the extreme southwestern corner of the state, will experience totality for a few seconds.
If you live in Minnesota or Iowa, you'll need to travel to view the eclipse.  If you make your plans now, it will be a very low cost trip, since inexpensive hotel rooms close to (but not directly inside) the area of totality are still available, starting at about $53 per night.
The Best Itinerary from Minnesota and Iowa
For eclipse travelers in other states, other viewing locations will be more convenient.  But for those in Minnesota, most of Iowa, western Wisconsin, and the eastern Dakotas, I have mapped out the best strategy.
If you look at a map, the closest viewing spot from those areas appears to be near St. Joseph, Missouri.  This is the closest spot in terms of distance, since it's about 400 miles from Minneapolis or 200 miles from Des Moines.  However, as I explained in an earlier post, this is actually a poor choice, because there will be a major choke point along Interstate 35 near Lathrop, Missouri.  If you head for the St. Joseph area the day of the eclipse, it's very likely that you will be caught in an apocalyptic traffic jam on Interstate 35.  Also, every hotel room near St. Joseph has been booked for months, and it's impossible to find lodging.
Another choke point, predicted to be even worse, is located in northeastern Kansas, at a point on U.S. Highway 75 near Sabetha, Kansas. Highway 75 is parallel and close to Interstate 29 as it heads north through northwestern Missouri and southwestern Iowa. Therefore, I predict that northbound traffic along I-29 will also be monumental the morning of August 21.
Fortunately, those of us in Minnesota and Iowa can avoid both of these choke points and still find hotel rooms close to the area of totality.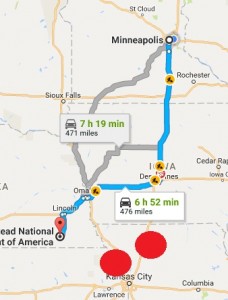 My recommendation for those coming from Minnesota or Iowa to view the eclipse is to drive to Omaha on Sunday, August 20. You can still reserve a hotel room in Omaha the night before the eclipse, and the prices are still very reasonable. You will not be within the path of totality, but you will be very close. On Monday morning, you can drive west on Interstate 80 about 50 miles to Lincoln. In Lincoln, you will be able to view the total eclipse. Traffic along Interstate 80 will probably be quite heavy, but you will be able to divert yourself completely away from choke points on Interstates 29 and 35, shown in red on this map.
The route shown on the map takes you to Homestead National Monument of America, which is one of the better viewing spots in Nebraska.  Homestead is planning for the large crowds, and it will be one of the locations from which NASA will be doing its live broadcast.
If you follow this recommended itinerary, on Sunday, it will be about a 400 mile drive to Omaha from Minneapolis.  On Monday morning, you can drive about 50 miles to Lincoln, where you will be able to view the eclipse.  Lincoln has a number of events and viewing areas planned, which   are listed here.  For better viewing, you can head south from Lincoln to  Homestead National Monument.  Or, you can continue west on Interstate 80.  The interstate more or less follows the path of totality, so every mile you drive west gives you a little bit more totality when the total eclipse begins at about 12:58 PM.  Most towns along the interstate have special viewing areas prepared, and you can find a listing at neclipse17.com.
You will have a lot of flexibility as far as actually viewing the eclipse.  Any legal parking spot close to Interstate 80, west of Lincoln, will allow you to view the total eclipse.  Even if millions of visitors descend upon the state, finding your viewing spot shouldn't be a problem.  Instead, the problem will be finding lodging.  All hotel rooms directly within the path of totality are now completely booked.  At this point, unless you want to sleep in your car, you'll need to stay in Omaha Sunday night and then make the relatively short drive to your final viewing spot on Monday morning.
Omaha Hotels Available Sunday Night
Fortunately, hotel rooms are still available in Omaha on Sunday night, August 20, and it's only a 50 mile drive to view the eclipse the morning of August 21.  The following information has been updated on July 24 and is current as of that date.  You can check availability and make reservations by clicking on the links below:
The following Omaha hotels have rooms available Sunday night, August 20, under $100: 
Super 8 Fremont NE ($51)
, Motel 6 Omaha
 ($54), Econo Lodge West Dodge
 ($60), Sleep Inn & Suites Airport
 ($67), Super 8 Omaha / West
 ($69), Comfort Suites Omaha
 ($72).
The following Omaha hotels have rooms available Sunday night, August 20, under $200:   Magnolia Hotel Omaha
($148, use coupon code TRAVEL8),  Country Inn & Suites By Carlson Omaha Airport
($101),  Hotel Deco XV
 ($125, use coupon code TRAVEL8).
By following the links above, you can secure an inexpensive hotel room and view the eclipse!
If you're an attorney and want to earn Continuing Legal Education credit as part of your eclipse trip, please visit my Eclipse CLE page.