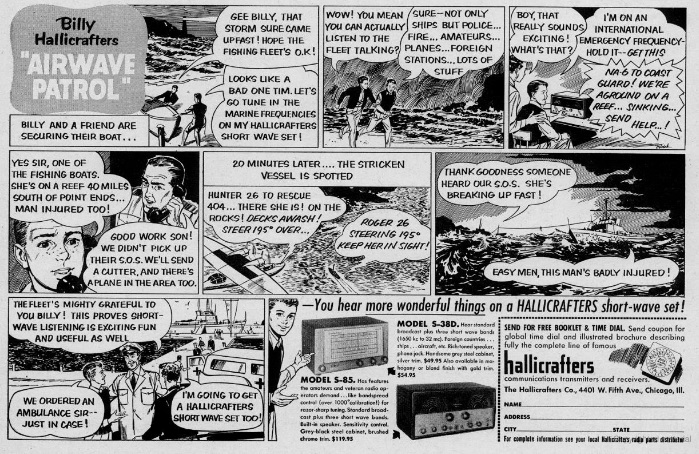 Sixty years ago this month, the June 1957 issue of Boys' Life carried this Hallicrafters ad, highlighting the excitement available on the shortwave bands.
The comic book style ad featured a young hero with the unlikely name of Billy Hallicrafters. Billy and his friend Tim have been out boating and were securing their boat after a quick storm blew up. Billy agrees that the storm is a bad one, and invites Timmy to come tune the marine frequencies on his Hallicrafters S-85.
An amazed Tim asks whether it's really possible to listen to the fleet talking, and Billy assures him that it is. In addition to the exciting traffic from ships, he tells Tim that he can tune in police, fire, amateurs, planes, and foreign stations.
They get to Billy's receiver, where on an international emergency frequency they hear a desperate distress call from a ship run aground on a reef and sinking. The ship tries in vain to raise the Coast Guard, but to no avail.
Our hero Billy quickly gets on the phone to the Coast Guard and gives the ship's position. The Coast Guard tells him that they didn't pick up the SOS, but had a cutter and plane in the area. Twenty minutes later, the Coast Guard has rescued the ship, which included an injured man.
In the next scene, Billy and Tim are down at the dock talking to the grateful Coast Guard officer, who tells them that this proves that shortwave listening is both exciting and fun.
An ambulance is seen waiting to take the injured man to the hospital, and it turns out that Billy had taken it upon himself to have the ambulance standing by.
Tim adds that he's going to get his own Hallicrafters shortwave set.
Billy's S-85 is revealed to have a list price of $119.95. For the more budget conscious Scout thinking of listening for distress calls, the ad also showed the venerable S-38D with a list price of $49.95.