In earlier posts, I posted regarding hotel availability, with updates for the western United States and eastern United States for the total eclipse on August 21. I also have links regarding where to get your eclipse glasses , which you will need to safely view the eclipse before and after totality. In general, hotel rooms are still available (but going fast) in the eastern U.S., but are very scarce in the western U.S.  Also see my list of over 100 eclipse campsites.
If your family is involved in Scouting (and in some cases, even if you are not), one option for camping in the path of totality might be Boy Scout and Girl Scout camps. The following camps have special camping events scheduled for the eclipse weekend. Some of these are open only to troops, but a phone call might allow your scouting family to join in with a local troop. Other events are open to individual scouts and their families. Other events are open to the public. If you still need a camping spot, one of these might be your best option.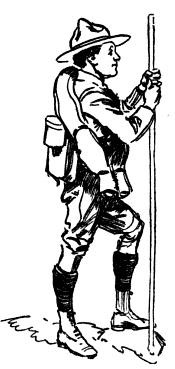 These are the eclipse scout camping opportunities I'm aware of. If you know of others, please let me know.  They're listed here from west to east:
Oregon
Camp Pioneer
Cascade Pacific Council, OR
Weekend event for Boy Scouts, Venturers, Explorers
Idaho
Camp Bradley
Snake River Council, Idaho
Event appears to be open to public
Grand Teton Council, Idaho
Various events
Wyoming
Teton High Adventure Base
Great Salt Lake Council, Utah
Teton Eclipse Adventure
Camp Laramie Peak
Longs Peak Council, WY
Solar Eclipse Weekend at Camp Laramie Peak
Girl Scouts of Montana & Wyoming
Camp Sacajawea
Casper, WY
Wyoming Eclipse Event for Girl Scouts
Nebraska
BSA Cornhusker Council, Du Bois, NE  SOLD OUT
Camp Cornhusker, viewing and camping, open to public.
BSA Overland Trails Council
Doniphan, NE
Camp Augustine, viewing & camping, open to public
Nebraska Girl Scouts
Camp Cosmo
Grand Island, NE
Solar Eclipse Camporee for Girl Scouts & Families
Missouri
Pine Ridge EclipseFest
Greater St. Louis Area Council, MO
Weekend event for Boy Scout troops
Illinois
Girl Scouts of Southern Illinois
Carbondale, IL
Total Eclipse of the Heartland for Girl Scouts
Kentucky
Pfeffer Scout Reservation
Lincoln Heritage Council, KY
Weekend event for Boy Scout Troops and Cub Scout Packs
Kentucky 4H Camp for Ages 9-18
Tennessee
Boxwell Reservation
Middle Tennessee Council
Great Eclipse Campout
Camp Buck Toms
Great Smoky Mountain Council, TN
"Be Totally There" for scouts & scout families
Georgia
Camp Rainey
Northeast Georgia Council
Scouts, Family Members, and the Public
South Carolina
Indian Waters Council
Columbia, SC
Camp Eclipse 2017 for scouts and families
The BSA is offering an eclipse patch that scouts can earn.