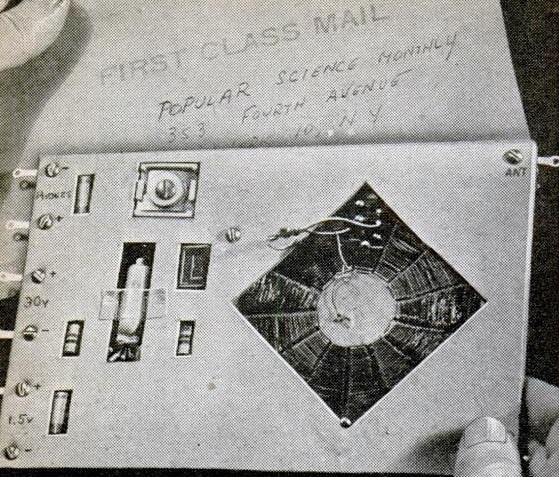 We previously featured a 1940 crystal set that could be mailed as a post card. And today, we up the ante to this mailable one-tube radio from the June 1947 issue of Popular Science. This one won't go as a post card, but at just a quarter of an inch thick, it is small enough to mail in a 6 by 9 inch manila envelope.
The set used a subminiature 2E32 pentode tube. In addition to the radio, you would need a 22-1/2 volt B battery, as well as a penlight cell to light the filament.
The flat coil is wound on a 4 inch cardboard disk. The 92 turns are tapped at various points. By connecting to different taps, and by adjusting the trimmer capacitor, the set would tune most of the broadcast band. Even though the set did not use regeneration, it was said to be able to pull in strong local stations with high impedance headphones (also not included inside the envelope).