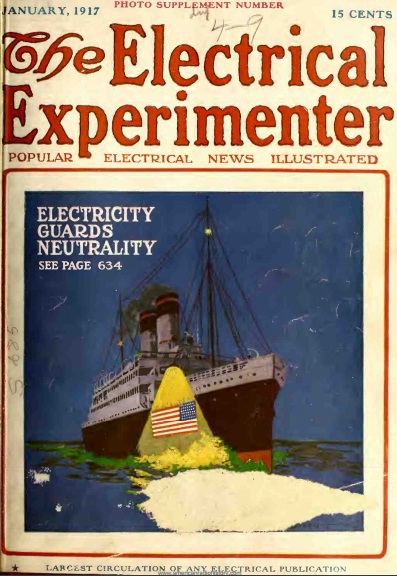 Within a few months, America would be at war, but a hundred years ago this month, the country was still neutral, and the cover of the January 1917 issue of Electrical Experimenter magazine showed how electricity was helping to preserve that neutrality.
The ship depicted is the steamer Kansan, of the Hawaiian-American line. The flag was painted on both sides of the ship, and powerful electric lights were employed to cast their rays on the flag at night.
There had been cases of neutral vessels being sunk by submarine commanders not wanting to get close enough to a ship to make a positive identification of its nationality. The immense flag "would seem to be a very sure manner of indicating to any submarine commander as to just what ship he was dealing with."
While the illuminated flag apparently protected the Kansan during American neutrality, she did not fare well after the country's entry into the war.  On July 10, 1917, she was sunk without warning by a submarine or mine two miles east of Kardonis Point (Belle Isle), France.  Four men died in the attack.